Low Replication Efficiency of a Japanese Rabbit Hepatitis E Virus Strain in the Human Hepatocarcinoma Cell Line PLC/PRF/5
Viruses 2023, 15(6), 1322; https://doi.org/10.3390/v15061322 (registering DOI) - 05 Jun 2023
Abstract
A Japanese rabbit hepatitis E virus (HEV) strain, JP-59, has been identified in a feral rabbit. When this virus was transmitted to a Japanese white rabbit, it caused persistent HEV infection. The JP-59 strain shares an <87.5% nucleotide sequence identity with other rabbit
[...] Read more.
A Japanese rabbit hepatitis E virus (HEV) strain, JP-59, has been identified in a feral rabbit. When this virus was transmitted to a Japanese white rabbit, it caused persistent HEV infection. The JP-59 strain shares an <87.5% nucleotide sequence identity with other rabbit HEV strains. Herein, to isolate JP-59 by cell culture, we used a 10% stool suspension recovered from a JP-59-infected Japanese white rabbit and contained 1.1 × 10
7
copies/mL of the viral RNA and using it to infect a human hepatocarcinoma cell line, PLC/PRF/5. No sign of virus replication was observed. Although long-term virus replication was observed in PLC/PRF/5 cells inoculated with the concentrated and purified JP-59 containing a high titer of viral RNA (5.1 × 10
8
copies/mL), the viral RNA of JP-59c that was recovered from the cell culture supernatants was <7.1 × 10
4
copies/mL during the experiment. The JP-59c strain did not infect PLC/PRF/5 cells, but its intravenous inoculation caused persistent infection in rabbits. The nucleotide sequence analyses of the virus genomes demonstrated that a total of 18 nucleotide changes accompanying three amino acid mutations occurred in the strain JP-59c compared to the original strain JP-59. These results indicate that a high viral RNA titer was required for JP-59 to infect PLC/PRF/5 cells, but its replication capability was extremely low. In addition, the ability of rabbit HEVs to multiply in PLC/PRF/5 cells varied depending on the rabbit HEV strains. The investigations of cell lines that are broadly susceptible to rabbit HEV and that allow the efficient propagation of the virus are thus needed.
Full article
►

▼

Show Figures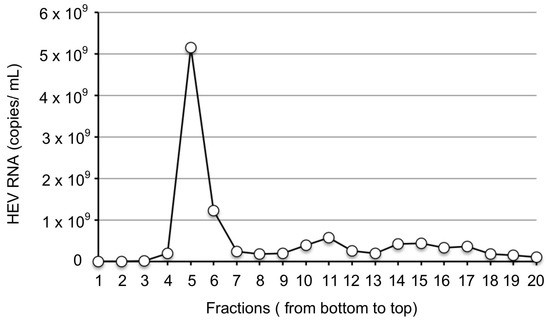 Figure 1