Streptomyces Bioactive Metabolites Prevent Liver Cancer through Apoptosis, Inhibiting Oxidative Stress and Inflammatory Markers in Diethylnitrosamine-Induced Hepatocellular Carcinoma
Biomedicines 2023, 11(4), 1054; https://doi.org/10.3390/biomedicines11041054 (registering DOI) - 29 Mar 2023
Abstract
A safe and effective treatment for liver cancer is still elusive despite all attempts. Biomolecules produced from natural products and their derivatives are potential sources of new anticancer medications. This study aimed to investigate the anticancer potential of a
Streptomyces
sp. bacterial extract
[...] Read more.
A safe and effective treatment for liver cancer is still elusive despite all attempts. Biomolecules produced from natural products and their derivatives are potential sources of new anticancer medications. This study aimed to investigate the anticancer potential of a
Streptomyces
sp. bacterial extract against diethylnitrosamine (DEN)–induced liver cancer in Swiss albino mice and explore the underlying cellular and molecular mechanisms. The ethyl acetate extract of a
Streptomyces
sp. was screened for its potential anticancer activities against HepG-2 using the MTT assay, and the IC
50
was also determined. Gas chromatography–mass spectrometric analysis was used to identify the chemical constituents of the
Streptomyces
extract. Mice were administered DEN at the age of 2 weeks, and from week 32 until week 36 (4 weeks), they received two doses of
Streptomyces
extract (25 and 50 mg/kg body weight) orally daily. The
Streptomyces
extract contains 29 different compounds, according to the GC-MS analysis. The rate of HepG-2 growth was dramatically reduced by the
Streptomyces
extract. In the mice model.
Streptomyces
extract considerably lessened the negative effects of DEN on liver functions at both doses. Alpha-fetoprotein (AFP) levels were significantly (
p
< 0.001) decreased, and P53 mRNA expression was increased, both of which were signs that
Streptomyces
extract was suppressing carcinogenesis. This anticancer effect was also supported by histological analysis.
Streptomyces
extract therapy additionally stopped DEN-induced alterations in hepatic oxidative stress and enhanced antioxidant activity. Additionally,
Streptomyces
extract reduced DEN-induced inflammation, as shown by the decline in interleukin-1 beta (IL-1β) and tumor necrosis factor-alpha (TNF-α) levels. Additionally, the
Streptomyces
extract administration dramatically boosted Bax and caspase-3 levels while decreasing Bcl-2 expressions in the liver according to the Immunohistochemistry examination. In summary,
Streptomyces
extract is reported here as a potent chemopreventive agent against hepatocellular carcinoma through multiple mechanisms, including inhibiting oxidative stress, cell apoptosis, and inflammation.
Full article
►

▼

Show Figures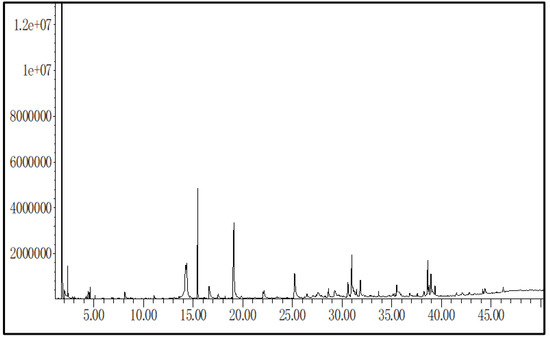 Figure 1