Design, Rational Repurposing, Synthesis, In Vitro Evaluation, Homology Modeling and In Silico Study of Sulfuretin Analogs as Potential Antileishmanial Hit Compounds
Cited by 5
| Viewed by 955
Abstract
Direct growth inhibition of infectious organisms coupled with immunomodulation to counteract the immunosuppressive environment might be a beneficial therapeutic approach. Herein, a library of sulfuretin analogs were developed with potential capabilities to inhibit production of the immunosuppressive PGE
2
and elicit direct growth
[...] Read more.
Direct growth inhibition of infectious organisms coupled with immunomodulation to counteract the immunosuppressive environment might be a beneficial therapeutic approach. Herein, a library of sulfuretin analogs were developed with potential capabilities to inhibit production of the immunosuppressive PGE
2
and elicit direct growth inhibition against
Leishmania donovani
; the major causative agent of the fatal visceral leishmaniasis. Amongst explored library members bearing diverse methoxy and/or hydroxy substitution patterns at rings B and A, analog
1i
retaining the C6-hydroxy moiety at ring-A, but possessing methoxy moieties in place of the polar dihydroxy moieties of sulfuretin ring-B, as well as analog
1q
retaining the sulfuretin′s polar dihydroxy moieties at ring-B, but incorporating a C6-methoxy moiety instead of the C6-hydroxy moiety at ring-A, were the most promising hit compounds. Cytotoxicity evaluation suggested that analog
1i
possesses a safety profile inducing the death of the parasite rather than host cells. In silico simulation provided insights into their possible binding with
Leishmania donovani
fumarate reductase. The current investigation presents sulfuretin analogs
1i
and
1q
as potential hit compounds for further development of multifunctional therapeutic agents against visceral leishmaniasis.
Full article
►

▼

Show Figures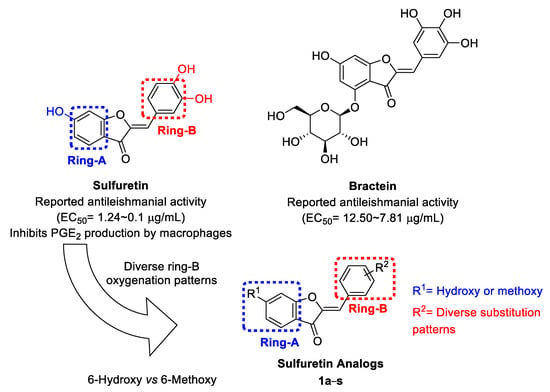 Figure 1