Hair Growth Effect of DN106212 in C57BL/6 Mouse and Its Network Pharmacological Mechanism of Action
Curr. Issues Mol. Biol. 2023, 45(6), 5071-5083; https://doi.org/10.3390/cimb45060322 (registering DOI) - 09 Jun 2023
Abstract
Centipeda minima
(CMX) has been widely investigated using network pharmacology and clinical studies for its effects on hair growth via the JAK/STAT signaling pathway. Human hair follicle papilla cells exhibit hair regrowth through the expression of Wnt signaling-related proteins. However, the mechanism of
[...] Read more.
Centipeda minima
(CMX) has been widely investigated using network pharmacology and clinical studies for its effects on hair growth via the JAK/STAT signaling pathway. Human hair follicle papilla cells exhibit hair regrowth through the expression of Wnt signaling-related proteins. However, the mechanism of action of CMX in animals has not been elucidated fully. This study examined the effect of induced hair loss and its side-effects on the skin, and observed the mechanism of action of an alcoholic extract of CMX (DN106212) on C57BL/6 mice. Our results showed that DN106212 was more effective in promoting hair growth than dimethyl sulfoxide in the negative control and tofacitinib (TF) in the positive control when mice were treated with DN106212 for 16 days. We confirmed that DN106212 promotes the formation of mature hair follicles through hematoxylin and eosin staining. We also found that the expression of vascular endothelial growth factor (
Vegfa
), insulin-like growth factor 1 (
Igf1
), and transforming growth factor beta 1 (
Tgfb1
) is related to hair growth using PCR. DN106212-treated mice had significantly higher expression of
Vegfa
and
Igf1
than TF-treated ones, and inhibiting the expression of
Tgfb1
had similar effects as TF treatment. In conclusion, we propose that DN106212 increases the expression of hair growth factors, promotes the development of hair follicles, and promotes hair growth. Although additional experiments are needed, DN106212 may serve as an experimental basis for research on natural hair growth-promoting agents.
Full article
►

▼

Show Figures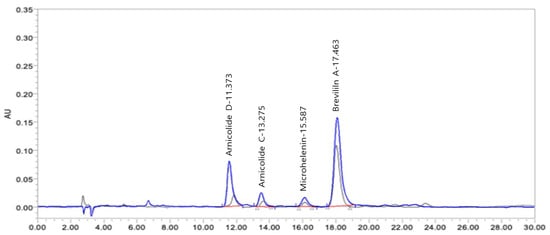 Figure 1