Use of Microbially Treated Olive Mill Wastewaters as Soil Organic Amendments; Their Short-Term Effects on the Soil Nematode Community
Abstract
Managing olive mill wastewater (OMW) is a major environmental problem. We followed two methods for OMW bioremediation: one with the white-rot fungus
Pleurotus ostreatus
alone and one with the fungus plus the microalga
Chlorella vulgaris.
To evaluate the potential use of both final
[...] Read more.
Managing olive mill wastewater (OMW) is a major environmental problem. We followed two methods for OMW bioremediation: one with the white-rot fungus
Pleurotus ostreatus
alone and one with the fungus plus the microalga
Chlorella vulgaris.
To evaluate the potential use of both final products as soil amendments, in a pot experiment, we applied treated OMW to soil cultivated with
Lactuca sativa
, and we studied their short-term effects on the soil nematode community in terms of trophic and functional structure, metabolic footprint, genera composition, and interaction networks. We also applied non-treated OMW and simply water (control). The addition of non-treated OMW significantly reduced the abundance of all nematodes, and the network of interactions was the most fragmented and the least robust against future disturbance. The effect on trophic group abundances was similar but less pronounced when OMW was previously detoxified either by the fungus alone or by its combination with the alga. In the latter case, the phytoparasites were suppressed but the bacterivorous nematodes were not affected. However, the most cohesive and robust nematode network was formed in the soil that received the fungal-treated OMW. None of our OMW applications significantly changed community composition, none improved the already degraded status of the soil food web—which is attributed to the sandy texture of our soil—and none affected the growth of lettuce plants, perhaps because of the short duration of the experiment (30 days). Thus, our future research will aim to estimate the long-term impact of OMW.
Full article
►

▼

Show Figures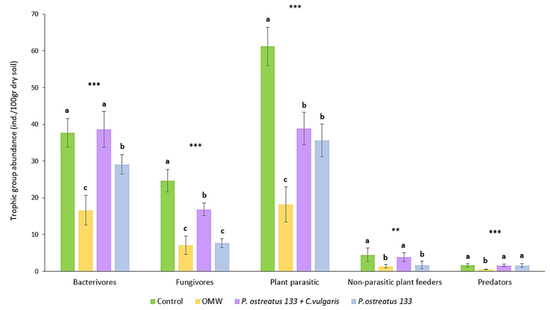 Figure 1