Alleviation of Surgery-Induced Osteitis in Sinonasal Cavity by Dexamethasone-Loaded Poly(lactic-co-glycolic acid) (PLGA) Microparticles with Strong Calcium-Binding Affinity
Cited by 2
| Viewed by 1766
Abstract
For the treatment of sinus surgery-induced osteitis in chronic rhinosinusitis (CRS), oral or intranasal administration of corticoids is generally used, although it has critical limitations and unavoidable side effects. To overcome these limitations, we designed dexamethasone (Dex)-loaded poly(lactic-
co
-glycolic acid) (PLGA) microparticles
[...] Read more.
For the treatment of sinus surgery-induced osteitis in chronic rhinosinusitis (CRS), oral or intranasal administration of corticoids is generally used, although it has critical limitations and unavoidable side effects. To overcome these limitations, we designed dexamethasone (Dex)-loaded poly(lactic-
co
-glycolic acid) (PLGA) microparticles with bone-specific binding affinity, which could release the encapsulated Dex in a sustained manner on the exposed bone after the surgical wound in the nasal cavity. In a previous report, we prepared poly(butyl methacrylate-
co
-methacryloyloxyethyl phosphate) (PBMP) with both calcium-binding phosphomonoester groups and PLGA-binding butyl groups to introduce strong calcium-binding property to PLGA particles. In this study, after successful encapsulation of Dex in the PBMP-coated PLGA particles, we applied the Dex-PLGA/PBMP to the treatment of post-operative osteitis in the sinonasal cavity. The Dex-PLGA/PBMP showed more than 5-times higher binding affinity to the hydroxyapatite (HA) surface compared to the non-coated PLGA particles, without altering the morphology and encapsulation efficiency. After establishing the neo-osteogenesis mouse model by mechanical injury of the nasal mucosa, the activity of intranasally administered Dex-PLGA/PBMP was examined to inhibit the formation of undesirable new woven bone during the wound healing process. In addition, significantly lower osteocalcin activity was observed in the group treated with Dex-PLGA/PBMP, indicating decreased activation of osteoblasts. Overall, these results demonstrate that the PLGA/PBMP microparticle strategy has great potential for the treatment of CRS-related osteitis by localized corticoid delivery on the exposed bones with minimal side effects.
Full article
►

▼

Show Figures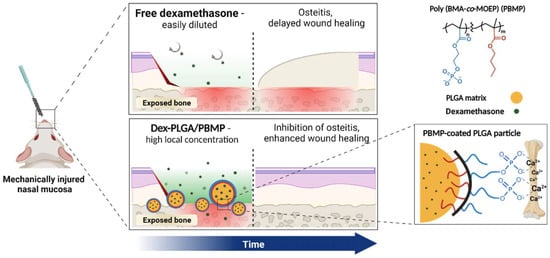 Figure 1