Novel Amorphous-Wollastonitic Low-Calcium Hydraulic Binders: A State-of-the-Art Review
Viewed by 322
Abstract
Because of the severe environmental impact of the CO
2
emissions associated with the production of ordinary Portland cement (OPC) and the increasing demand for this commodity material, the development of alternative products has become a global concern. One alternative to OPC, or
[...] Read more.
Because of the severe environmental impact of the CO
2
emissions associated with the production of ordinary Portland cement (OPC) and the increasing demand for this commodity material, the development of alternative products has become a global concern. One alternative to OPC, or alitic-based clinkers, are amorphous-wollastonitic low-calcium hydraulic binders (AWLCs). This new class of hydraulic binders, described in the literature for the first time in 2015, may significantly reduce the CO
2
emissions associated with its production, resulting from its lower calcium content, but also from the fact that its production technology can be fully electrified. In this paper, a state-of-the-art review is presented, providing a comprehensive description of the latest research, summarizing both the physicochemical and mechanical characteristics of this type of hydraulic binder, as well as possible routes for its production at an industrial scale.
Full article
►

▼

Show Figures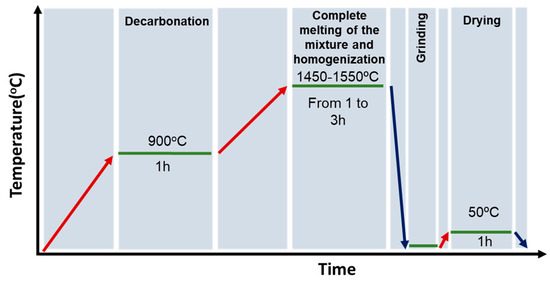 Figure 1