MicroRNA-Based Discovery of Biomarkers, Therapeutic Targets, and Repositioning Drugs for Breast Cancer
Cited by 3
| Viewed by 1093
Abstract
Breast cancer treatment can be improved with biomarkers for early detection and individualized therapy. A set of 86 microRNAs (miRNAs) were identified to separate breast cancer tumors from normal breast tissues (
n
= 52) with an overall accuracy of 90.4%. Six miRNAs
[...] Read more.
Breast cancer treatment can be improved with biomarkers for early detection and individualized therapy. A set of 86 microRNAs (miRNAs) were identified to separate breast cancer tumors from normal breast tissues (
n
= 52) with an overall accuracy of 90.4%. Six miRNAs had concordant expression in both tumors and breast cancer patient blood samples compared with the normal control samples. Twelve miRNAs showed concordant expression in tumors vs. normal breast tissues and patient survival (
n
= 1093), with seven as potential tumor suppressors and five as potential oncomiRs. From experimentally validated target genes of these 86 miRNAs, pan-sensitive and pan-resistant genes with concordant mRNA and protein expression associated with in-vitro drug response to 19 NCCN-recommended breast cancer drugs were selected. Combined with in-vitro proliferation assays using CRISPR-Cas9/RNAi and patient survival analysis, MEK inhibitors PD19830 and BRD-K12244279, pilocarpine, and tremorine were discovered as potential new drug options for treating breast cancer. Multi-omics biomarkers of response to the discovered drugs were identified using human breast cancer cell lines. This study presented an artificial intelligence pipeline of miRNA-based discovery of biomarkers, therapeutic targets, and repositioning drugs that can be applied to many cancer types.
Full article
►

▼

Show Figures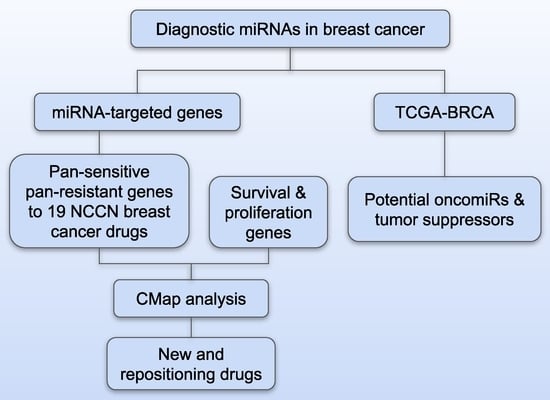 Graphical abstract