Conferences
Upcoming MDPI Conferences (1)
15 June 2023
Cells Webinar | Systems Biology of Apoptotic and Non-apoptotic Signaling
Online
We cordially invite you to take part in the webinar devoted to the Special Issue "Systems Biology of Apoptotic and Non-apoptotic Signaling". The life/death decisions in the cell are regulated by the balance between apoptotic and non-apoptotic signaling pathways. Although these pathways have been studied relatively well, their quantitative regulation has, until recently, been poorly understood. In this regard, the construction of mathematical models of apoptotic and non-apoptotic signaling pathways led to enormous progress in the quantitative understanding of cell fate control. Further, it led to the identification of targets within cell death networks, followed by drug discovery. In this webinar, molecular mechanisms of apoptotic and non-apoptotic signaling and their biological implications are addressed. Central attention will be given to the cross-talk between cell death and DNA repair pathways since the latter largely define cell fate. Taken together, we shall discuss the contemporary view on the intricate cross-talk of apoptotic and non-apoptotic networks in the cell regulating life/death decisions.
Date: 15 June 2023 at 10:00 a.m. CEST | 4:00 a.m. EST | 4:00 p.m. CST Asia
Webinar ID: 838 0463 3191
Register now for free!
Program
Speaker/Presentation

Time in CEST

Time in EST

Prof. Dr. Inna Lavrik
Chair Introduction

10:00–10:10 a.m.

4:00–4:10 a.m.

Prof. Dr. Inna Lavrik
Dissecting The Quantitative Regulation Of Cell Fate Decisions In Death Receptor Networks

10:10–10:30 a.m.

4:10–4:30 a.m.

Prof. Boris Zhivotovsky
Programmed Cell Death: Past, Present, and Future

10:30–10:50 a.m.

4:30–4:50 a.m.

Prof. Olga Lavrik
Poly(ADP-ribose)polymerases as Dynamic Triggers for Biomolecular Condensate Formation

10:50–11:10 a.m.

4:50–5:10 a.m.

Q&A Session

11:10–11:25 a.m.

5:10–5:25 a.m.

Prof. Dr. Inna Lavrik
Closing of Webinar

11:25–11:30 a.m.

5:25–5:30 a.m.
After registering, you will receive a confirmation email on how to join the Webinar. Registrations with academic institutional email addresses will be prioritized.
Unable to attend? Register anyway, and we will let you know when the recording is available to watch.
Webinar Chair and Keynote Speakers:
Dr. Inna Lavrik, Translational Inflammation Research, Medical Faculty, Center of Dynamic Systems, Otto von Guericke University Magdeburg, Magdeburg, Germany;
Boris Zhivotovsky, Institute of Environmental Medicine, Division of Toxicology, Karolinska Institute, Solna, Sweden;
Olga Lavrik, Institute of Chemical Biology and Fundamental Medicine, Siberian Branch of the Russian Academy of Sciences, Novosibirsk, Russia.
Relevant Special Issue:
"Systems Biology of Apoptotic and Non-apoptotic Signaling"
Special Issue Editor: Prof. Dr. Inna N. Lavrik
https://us02web.zoom.us/webinar/register/2316832492330/WN_g11kOdG3QZCeXy8o2UiIyw
Cells announces selected third-party conferences. In case you would like to announce your own event on the Cells website, please fill out the following form to apply for the announcement of a conference or other academic event (seminar, workshop).
Upcoming Partner Conferences (2)

19–23 June 2023
27th Wilhelm Bernhard Workshop on the Cell Nucleus 2023 (WBW 2023)
Prague, Czech Republic
It is with great pleasure that we can invite you to participate in the 27th Wilhelm Bernhard Workshop on the Cell Nucleus (WBW) on 19-23 June, 2023. The Workshop will be held at the Institute of Molecular Genetics of the Czech Academy of Sciences in Prague, Czech Republic.
The purpose of the 5-day workshop is to create a multidisciplinary meeting representing various research approaches most used in studies on the cell nucleus structure, functions, and relationships and contribute to our understanding of genome functioning, cancer development, diagnostics, and cure. The workshop aims to promote expert contacts between scientists across all borders, as well as support young researchers and provide the opportunity to develop their research to its fullest potential. The WBW scientific sessions cover: Nuclear Compartments and Gene Expression, Nuclear Lipids and Phase Separation in Health and Disease (organized as a workshop of the COST Action 19105), DNA Replication, Repair, Disease, Novel Methods in Nuclear Research and Diagnostics and Pathogenesis and Cancer (organized as a Symposium of the Society for Histochemistry).
The workshop will be enhanced by its informal and friendly atmosphere, which is reflected in its social program and engagement of industry partners in the included exhibition.
STIPENDS
The workshop is supported by the International Visegrad fund, Society for Histochemistry, and COST, and with the intention to encourage young researchers, a number of stipends will be granted to successful applicants.
DEADLINES
Abstracts: 30 April 2023
Registration: 1 June 2023
WEB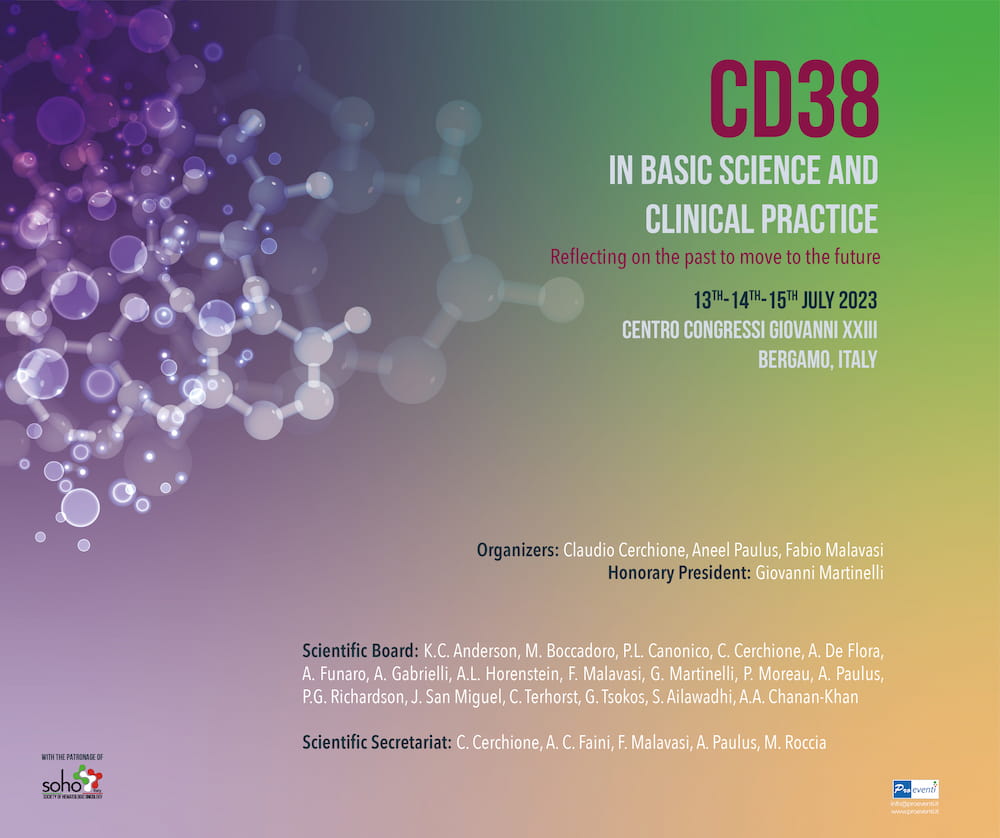 13–15 July 2023
CD38 in Basic Science and Clinical Practice 2023
Bergamo, Italy
The scientific rationale of the conference: Over 3 decades of research on CD38 and its role in human diseases has recently culminated in the development of agents that target CD38 for therapeutic exploit. The formal approval and expanding use of anti-CD38 therapeutic antibodies has emerged as an important treatment modality for the clinical management of patients with multiple myeloma. On the heels of this success, the efficacy of CD38-targeting agents is being actively investigated for patients with other hematologic malignancies, solid tumour cancers, autoimmune disorders as well as pathologies related to ageing, neurodegenerative disorders, neuropsychology, and cardiovascular disease. With an abundance of scientific data being released on CD38 biology and development of novel anti-CD38 therapies, our meeting, entitled "CD38 in Basic Science and Clinical Practice: Reflecting on the past to move to the Future", is timely and will bring together experts investigating the role of CD38 in cancer, ageing, autoimmunity, neurology, and psychology. This important conference will foster much needed engagement between clinicians, basic-science researchers, and pharmaceutical companies working on CD38. As anti-CD38 therapies are currently approved for use in patients with multiple myeloma, a major theme of the meeting will be on the optimal use of these agents and novel therapeutic strategies once patients stop responding to targeted interference of CD38. The meeting is being organized by experts in the field (Drs. Cerchione, Paulus, and Malavasi) with the support of their respective academic institutes and patronage from various pharmaceutical partners, professional societies, and philanthropists.
Link for abstract submission: https://soho.abstracts.it/CD38/
Link for registration to the conference https://ecm.deepapp.it/Userslogin.aspx or through APP DEEP ECM (that you can find on Play Store/App Store). Create an account and then insert a pin CD38BERGAMO.