Zearalenone Exposure Disrupts STAT-ISG15 in Rat Colon: A Potential Linkage between Zearalenone and Inflammatory Bowel Disease
Abstract
Zearalenone (ZEN), a prevalent mycotoxin contaminating food and known for its intestinal toxicity, has been suggested as a potential risk factor for inflammatory bowel disease (IBD), although the exact relationship between ZEN exposure and IBD remains unclear. In this study, we established a
[...] Read more.
Zearalenone (ZEN), a prevalent mycotoxin contaminating food and known for its intestinal toxicity, has been suggested as a potential risk factor for inflammatory bowel disease (IBD), although the exact relationship between ZEN exposure and IBD remains unclear. In this study, we established a rat model of colon toxicity induced by ZEN exposure to investigate the key targets of ZEN-induced colon toxicity and explore the underlying connection between ZEN exposure and IBD. Histological staining of the rat colon revealed significant pathological changes resulting from ZEN exposure (
p
< 0.01). Furthermore, the proteomic analysis demonstrated a notable upregulation of protein expression levels, specifically STAT2 (0.12 ± 0.0186), STAT6 (0.36 ± 0.0475) and ISG15 (0.43 ± 0.0226) in the rat colon (
p
< 0.05). Utilizing bioinformatics analysis, we combined ZEN exposure and IBD clinical sample databases to reveal that ZEN exposure may increase the risk of IBD through activation of the STAT-ISG15 pathway. This study identified novel targets for ZEN-induced intestinal toxicity, providing the basis for further study of ZEN exposure to IBD.
Full article
►

▼

Show Figures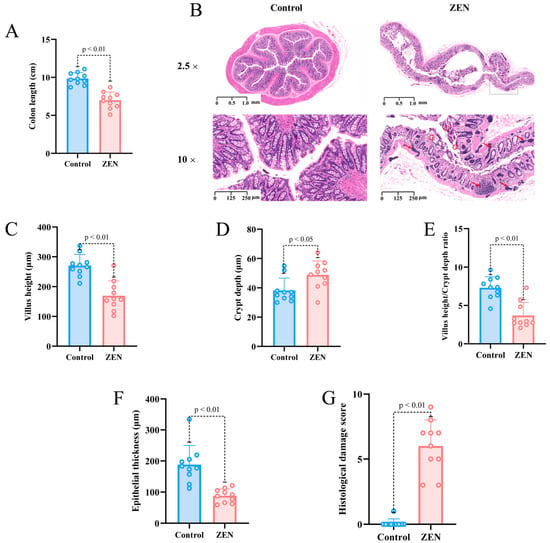 Figure 1