Impact of Dragon Fruit Waste in Microbial Fuel Cells to Generate Friendly Electric Energy
Cited by 2
| Viewed by 1430
Abstract
Pollution generated by the misuse of large amounts of fruit and vegetable waste has become a major environmental and social problem for developing countries due to the absence of specialized collection centers for this type of waste. This research aims to generate electricity
[...] Read more.
Pollution generated by the misuse of large amounts of fruit and vegetable waste has become a major environmental and social problem for developing countries due to the absence of specialized collection centers for this type of waste. This research aims to generate electricity in an eco-friendly way using red dragon fruit (pitahaya) waste as the fuel in single-chamber microbial fuel cells on a laboratory scale using zinc and copper electrodes. It was possible to generate voltage and current peaks of 0.46 ± 0.03 V and 2.86 ± 0.07 mA, respectively, with an optimum operating pH of 4.22 ± 0.09 and an electrical conductivity of 175.86 ± 4.72 mS/cm at 8 °Brix until the tenth day of monitoring. An internal resistance of 75.58 ± 5.89 Ω was also calculated with a maximum power density of 304.33 ± 16.51 mW/cm
2
at a current density of 5.06 A/cm
2
, while the FTIR spectra showed a decrease in the initial compounds and endings, especially at the 3331 cm
−1
peaks of the O–H bonds. Finally, the yeast-like fungus
Geotrichum candidum
was molecularly identified (99.59%). This research will provide great opportunities for the generation of renewable energy using biomass as fuel through electronic devices with great potential to generate electricity.
Full article
►

▼

Show Figures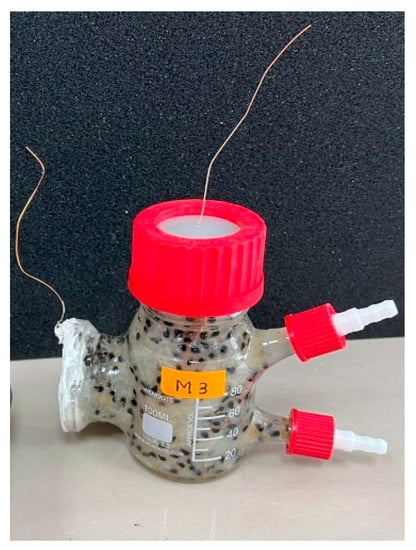 Figure 1