Synthesis of New Polyheterocyclic Pyrrolo[3,4-b]pyridin-5-ones via an Ugi-Zhu/Cascade/Click Strategy
Viewed by 1004
Abstract
A diversity-oriented synthesis (DOS) of two new polyheterocyclic compounds was performed via an Ugi-Zhu/cascade (
N
-acylation/
aza
Diels-Alder cycloaddition/decarboxylation/dehydration)/click strategy, both step-by-step to optimize all involved experimental stages, and in one pot manner to evaluate the scope and sustainability of this polyheterocyclic-focused
[...] Read more.
A diversity-oriented synthesis (DOS) of two new polyheterocyclic compounds was performed via an Ugi-Zhu/cascade (
N
-acylation/
aza
Diels-Alder cycloaddition/decarboxylation/dehydration)/click strategy, both step-by-step to optimize all involved experimental stages, and in one pot manner to evaluate the scope and sustainability of this polyheterocyclic-focused synthetic strategy. In both ways, the yields were excellent, considering the high number of bonds formed with release of only one carbon dioxide and two molecules of water. The Ugi-Zhu reaction was carried out using the 4-formylbenzonitrile as orthogonal reagent, where the formyl group was first transformed into the pyrrolo[3,4-
b
]pyridin-5-one core, and then the remaining nitrile group was further converted into two different nitrogen-containing polyheterocycles, both via click-type cycloadditions. The first one used sodium azide to obtain the corresponding 5-substituted-1
H
-tetrazolyl-pyrrolo[3,4-
b
]pyridin-5-one, and the second one with dicyandiamide to synthesize the 2,4-diamino-1,3,5-triazine-pyrrolo[3,4-
b
]pyridin-5-one. Both synthesized compounds may be used for further in vitro and in silico studies because they contain more than two heterocyclic moieties of high interest in medicinal chemistry, as well as in optics due to their high π-conjugation.
Full article
►

▼

Show Figures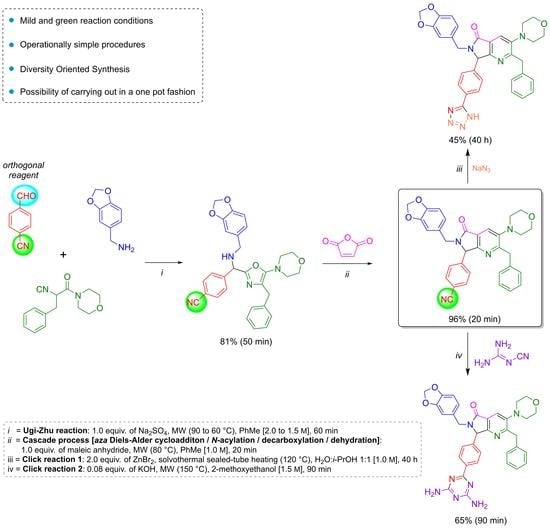 Graphical abstract