Senotherapeutic Effect of Retinaldehyde and Hyaluronate Fragments in Dermatoporosis
Abstract
Cellular senescence is one of the important mechanisms of skin aging. In a recent study, we have shown that in patients with dermatoporosis, an extreme senescence condition of the skin, cells positive for p16
Ink4a
, a biomarker of senescence, were significantly increased
[...] Read more.
Cellular senescence is one of the important mechanisms of skin aging. In a recent study, we have shown that in patients with dermatoporosis, an extreme senescence condition of the skin, cells positive for p16
Ink4a
, a biomarker of senescence, were significantly increased in the epidermis. Senescent cells can develop a senescence-associated secretory phenotype (SASP) comprising pro-inflammatory cytokines, chemokines, and other soluble factors, leading to chronic inflammation and tissue dysfunction. These senescent cells and SASP pathways represent therapeutic targets for the development of senotherapeutics either by inducing selective cell death of senescent cells called senolytics, or suppressing markers of the SASP, called senomorphics. In this study where we conducted a retrospective immunohistochemical analysis of p16
Ink4a
expression in the skin samples of dermatoporosis patients included in a previous clinical study, we describe the senotherapeutic effect of retinaldehyde (RAL) and intermediate-size hyaluronate fragments (HAFi). Topical application of RAL and HAFi significantly reduced the number of p16
Ink4a
-positive cells in the epidermis and dermis in dermatoporosis patients which also showed a significant clinical improvement.
Full article
►

▼

Show Figures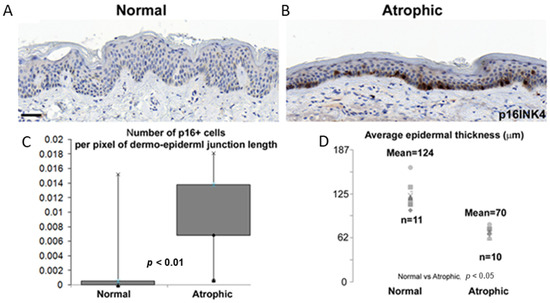 Figure 1