Mapping Cell-in-Cell Structures in Oral Squamous Cell Carcinoma
Viewed by 738
Abstract
Cell-in-cell (CIC) structures contribute to tumor aggressiveness and poor prognosis in oral squamous cell carcinoma (OSCC). In vitro 3D models may contribute to the understanding of the underlying molecular mechanisms of these events. We employed a spheroid model to study the CIC structures
[...] Read more.
Cell-in-cell (CIC) structures contribute to tumor aggressiveness and poor prognosis in oral squamous cell carcinoma (OSCC). In vitro 3D models may contribute to the understanding of the underlying molecular mechanisms of these events. We employed a spheroid model to study the CIC structures in OSCC. Spheroids were obtained from OSCC (HSC3) and cancer-associated fibroblast (CAF) lines using the Nanoshuttle-PL
TM
bioprinting system (Greiner Bio-One). Spheroid form, size, and reproducibility were evaluated over time (Evos
TM
XL; ImageJ version 1.8). Slides were assembled, stained (hematoxylin and eosin), and scanned (Axio Imager Z2/VSLIDE) using the OlyVIA System (Olympus Life Science) and ImageJ software (NIH) for cellular morphology and tumor zone formation (hypoxia and/or proliferative zones) analysis. CIC occurrence, complexity, and morphology were assessed considering the spheroid regions. Well-formed spheroids were observed within 6 h of incubation, showing the morphological aspects of the tumor microenvironment, such as hypoxic (core) and proliferative zone (periphery) formation. CIC structures were found in both homotypic and heterotypic groups, predominantly in the proliferative zone of the mixed HSC3/CAF spheroids. "Complex cannibalism" events were also noted. These results showcase the potential of this model in further studies on CIC morphology, formation, and relationship with tumor prognosis.
Full article
►

▼

Show Figures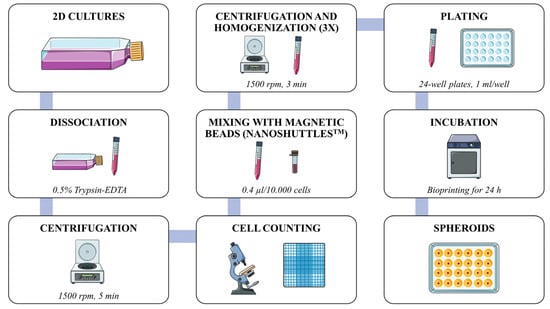 Figure 1