Acetan and Acetan-Like Polysaccharides: Genetics, Biosynthesis, Structure, and Viscoelasticity
Cited by 8
| Viewed by 2403
Abstract
Bacteria produce a variety of multifunctional polysaccharides, including structural, intracellular, and extracellular polysaccharides. They are attractive for the industrial sector due to their natural origin, sustainability, biodegradability, low toxicity, stability, unique viscoelastic properties, stable cost, and supply. When incorporated into different matrices, they
[...] Read more.
Bacteria produce a variety of multifunctional polysaccharides, including structural, intracellular, and extracellular polysaccharides. They are attractive for the industrial sector due to their natural origin, sustainability, biodegradability, low toxicity, stability, unique viscoelastic properties, stable cost, and supply. When incorporated into different matrices, they may control emulsification, stabilization, crystallization, water release, and encapsulation. Acetan is an important extracellular water-soluble polysaccharide produced mainly by bacterial species of the genera
Komagataeibacter
and
Acetobacter
. Since its original description in
Komagataeibacter xylinus
, acetan-like polysaccharides have also been described in other species of acetic acid bacteria. Our knowledge on chemical composition of different acetan-like polysaccharides, their viscoelasticity, and the genetic basis for their production has expanded during the last years. Here, we review data on acetan biosynthesis, its molecular structure, genetic organization, and mechanical properties. In addition, we have performed an extended bioinformatic analysis on acetan-like polysaccharide genetic clusters in the genomes of
Komagataeibacter
and
Acetobacter
species. The analysis revealed for the first time a second acetan-like polysaccharide genetic cluster, that is widespread in both genera. All species of the
Komagataeibacter
possess at least one acetan genetic cluster, while it is present in only one third of the
Acetobacter
species surveyed.
Full article
►

▼

Show Figures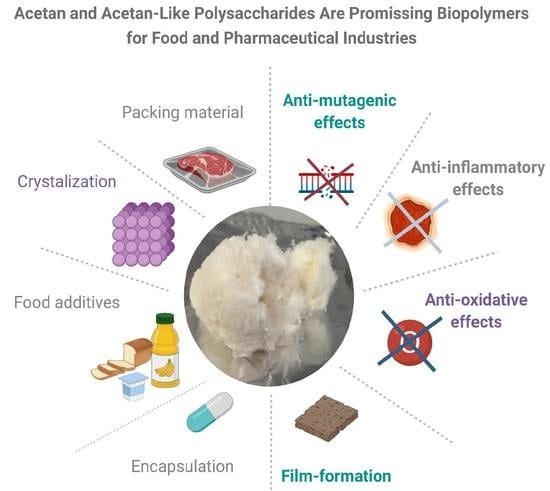 Graphical abstract