A Novel Marine Mammal Coxiella burnetii—Genome Sequencing Identifies a New Genotype with Potential Virulence
Viewed by 1155
Abstract
The obligate intracellular bacterial pathogen
Coxiella burnetii
has been identified in a few species of marine mammals, some of which are showing population declines. It has been hypothesized that
C. burnetii
in marine mammals is a distinct genotype that varies significantly from the
[...] Read more.
The obligate intracellular bacterial pathogen
Coxiella burnetii
has been identified in a few species of marine mammals, some of which are showing population declines. It has been hypothesized that
C. burnetii
in marine mammals is a distinct genotype that varies significantly from the typical terrestrial genotypes. It appears to lack an IS1111. Isolates originating from Australian marine animals have a distinctly non-Australian profile of multiple-locus variable-number tandem-repeat analysis (MLVA). Extracted
Coxiella
DNA of Australian fur seal placental origin was sequenced using the Novaseq platform. Illumina 150 bp paired-end reads were filtered and trimmed with Trimgalore. The microbial community present in the sequenced genome was evaluated with Kraken and Bracken software using the NCBI database. A phylogenetic analysis was performed using 1131 core genes. Core genes were identified using Panaroo and inputted into Iqtree to determine the maximum-likelihood tree. A second phylogenetic tree was created using
Rickettsiella grylii
and using seven housekeeping genes. Results were compared with the
C. burnetii
Nine Mile RSA439 virulent genome. This new Australian marine mammal isolate of
Coxiella
(PG457) appears to be a novel genotype that lacks IS1111 and has a distinct MLVA signature (ms26, ms27, ms28, ms30, and ms31). The presence of genes for multiple virulence factors appears to give this genotype sufficient pathogenicity for it to be considered a possible causative agent of abortion in Australian fur seals as well as a potential zoonotic risk.
Full article
►

▼

Show Figures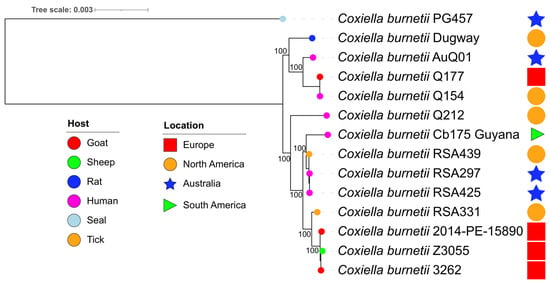 Figure 1