An Ethnobotanical, Phytochemical Analysis, Antimicrobial and Biological Studies of Pulicaria crispa as a Graze Promising Shrub
Viewed by 507
Abstract
Due to the global issue of antimicrobial resistance, one of the most significant challenges in microbiological research is to develop a replacement antibiotic with minimal adverse effects. The wild shrub
Pulicaria crispa
(gethgath) has been traditionally used for camel and ruminant grazing. While
[...] Read more.
Due to the global issue of antimicrobial resistance, one of the most significant challenges in microbiological research is to develop a replacement antibiotic with minimal adverse effects. The wild shrub
Pulicaria crispa
(gethgath) has been traditionally used for camel and ruminant grazing. While prior research has demonstrated its antimicrobial properties against human diseases, no investigations have been conducted on its efficacy against animal pathogens. The objective of this study is to explore the ethnobotanical, phytochemical, antioxidant, anticancer, and antimicrobial activity of
Pulicaria crispa
aqueous and solvent extracts against a range of standard and animal pathogens. All of the extracts demonstrated antimicrobial, antioxidant, and anticancer properties, containing bioactive compounds. Notably, the ethyl acetate extract of
P. crispa
exhibited the strongest antimicrobial activity against tested Gram-positive and Gram-negative bacteria and fungi. The chloroform fraction displayed the highest antioxidant activity. Additionally, the ethyl acetate fraction showed promising anticancer activity against breast (MCF-7) and lung (A549) cancer cells. These findings confirm that
Pulicaria crispa
is a valuable shrub with potential applications as a natural alternative for antimicrobial, antioxidant, and anticancer treatments in both human and veterinary medicine.
Full article
►

▼

Show Figures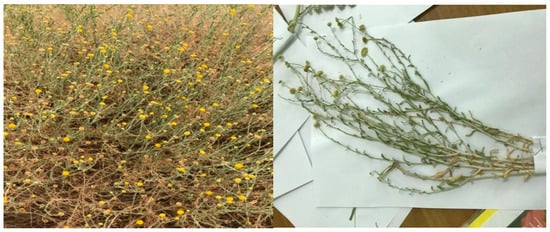 Figure 1