Toward Efficient Recycling of Vanadium Phosphate-Based Sodium-Ion Batteries: A Review
Viewed by 931
Abstract
Sodium-ion batteries (SIBs) have demonstrated noticeable development since the 2010s, being complementary to the lithium-ion technology in predominantly large-scale application niches. The projected SIB market growth will inevitably lead to the generation of tons of spent cells, posing a notorious issue for proper
[...] Read more.
Sodium-ion batteries (SIBs) have demonstrated noticeable development since the 2010s, being complementary to the lithium-ion technology in predominantly large-scale application niches. The projected SIB market growth will inevitably lead to the generation of tons of spent cells, posing a notorious issue for proper battery lifecycle management, which requires both the establishment of a regulatory framework and development of technologies for recovery of valuable elements from battery waste. While lithium-ion batteries are mainly based on layered oxides and lithium iron phosphate chemistries, the variety of sodium-ion batteries is much more diverse, extended by a number of other polyanionic families (crystal types), such as NASICON (Na
3
V
2
(PO
4
)
3
), Na
3
V
2
(PO
4
)
2
F
3−y
O
y
, (0 ≤
y
≤ 2)
,
KTiOPO
4
-type AVPO
4
X (A—alkali metal cation, X = O, F) and β-NaVP
2
O
7
, with all of them relying on vanadium and phosphorous—critical elements in a myriad of industrial processes and technologies. Overall, the greater chemical complexity of these vanadium-containing phosphate materials highlights the need for designing specific recycling approaches based on distinctive features of vanadium and phosphorus solution chemistry, fine-tuned for the particular electrodes used. In this paper, an overview of recycling methods is presented with a focus on emerging chemistries for SIBs.
Full article
►

▼

Show Figures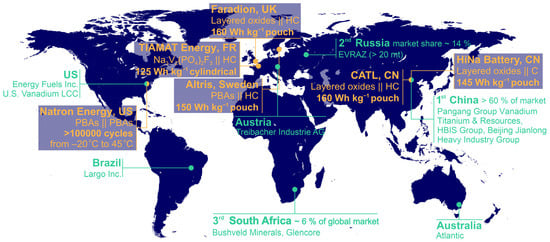 Figure 1