Differential Susceptibility of Retinal Neurons to the Loss of Mitochondrial Biogenesis Factor Nrf1
Cited by 1
| Viewed by 1492
Abstract
The retina, the accessible part of the central nervous system, has served as a model system to study the relationship between energy utilization and metabolite supply. When the metabolite supply cannot match the energy demand, retinal neurons are at risk of death. As
[...] Read more.
The retina, the accessible part of the central nervous system, has served as a model system to study the relationship between energy utilization and metabolite supply. When the metabolite supply cannot match the energy demand, retinal neurons are at risk of death. As the powerhouse of eukaryotic cells, mitochondria play a pivotal role in generating ATP, produce precursors for macromolecules, maintain the redox homeostasis, and function as waste management centers for various types of metabolic intermediates. Mitochondrial dysfunction has been implicated in the pathologies of a number of degenerative retinal diseases. It is well known that photoreceptors are particularly vulnerable to mutations affecting mitochondrial function due to their high energy demand and susceptibility to oxidative stress. However, it is unclear how defective mitochondria affect other retinal neurons. Nuclear respiratory factor 1 (Nrf1) is the major transcriptional regulator of mitochondrial biogenesis, and loss of
Nrf1
leads to defective mitochondria biogenesis and eventually cell death. Here, we investigated how different retinal neurons respond to the loss of
Nrf1
. We provide in vivo evidence that the disruption of
Nrf1
-mediated mitochondrial biogenesis results in a slow, progressive degeneration of all retinal cell types examined, although they present different sensitivity to the deletion of
Nrf1
, which implicates differential energy demand and utilization, as well as tolerance to mitochondria defects in different neuronal cells. Furthermore, transcriptome analysis on rod-specific
Nrf1
deletion uncovered a previously unknown role of Nrf1 in maintaining genome stability.
Full article
►

▼

Show Figures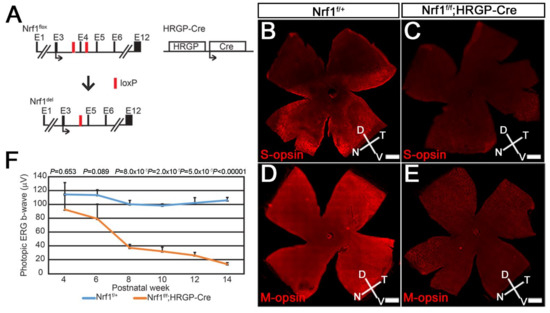 Figure 1