Effect of 2-Aminoethoxydiphenyl Borate (2-APB) on Heart Rate and Relation with Suppressed Calcium-Activated Potassium Channels: Larval Drosophila Model
Abstract
Cardiac contractile cells depend on calcium in order to function. Understanding the regulation of calcium influx, efflux, and release from the sarcoplasmic reticulum is essential. The focus of this investigation is to address how a reduction of functional Ca
2+
-activated K
+
[...] Read more.
Cardiac contractile cells depend on calcium in order to function. Understanding the regulation of calcium influx, efflux, and release from the sarcoplasmic reticulum is essential. The focus of this investigation is to address how a reduction of functional Ca
2+
-activated K
+
(K
Ca
) channels, via a mutational line, might impact the heart rate in larva when the SER is also modulated through Ca
2+
loading and stimulation. The larval heart tube is exposed in situ and flushed with saline. With a known saline composition, a potential therapeutic pharmacological agent, 2-Aminoethyl diphenylborinate (2-APB), was examined for its effect on heart rate, as well as to determine the contribution from K
Ca
channels. In this study, it was determined that mutation in the K(Ca) channel (i.e.,
Slo
) showed a different trend than the wild-type CS strain. Exposure to high concentrations of 50 µM 2-APB decreased heart rate in the
Slo
strain and increased it in the wild-type CS strain. Serotonin increased heart rate in both thapsigargin- and 2-APB-treated larvae, with no significant difference between the strains.
Full article
►

▼

Show Figures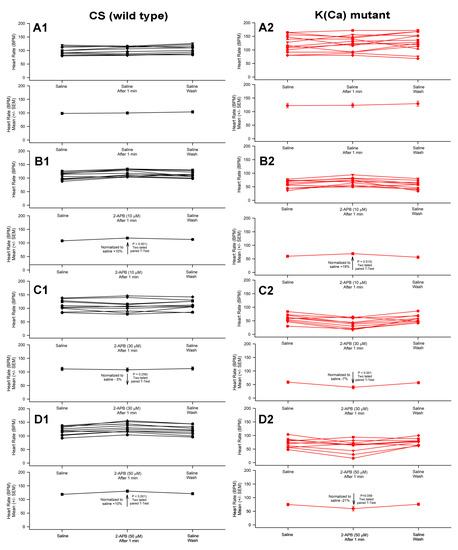 Figure 1