Conferences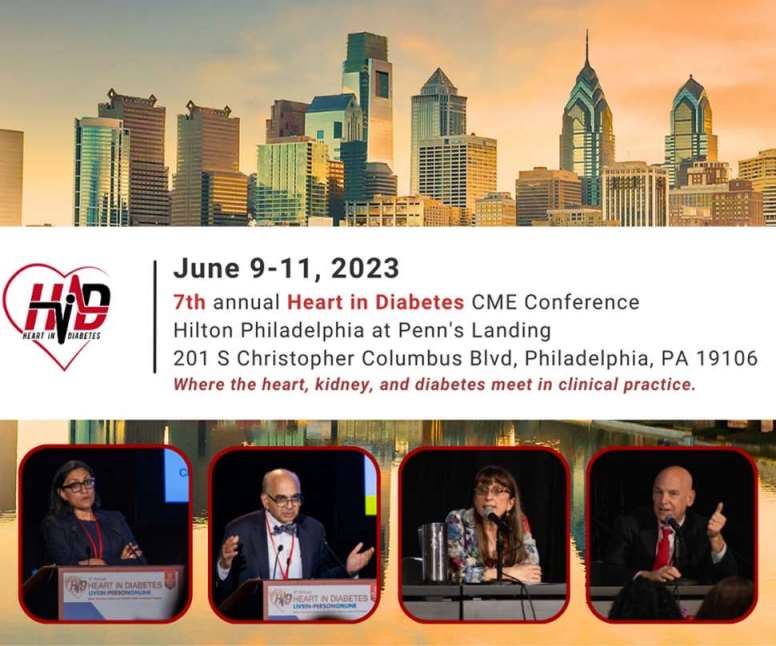 7th Annual Heart in Diabetes Conference in Philadelphia to Present Clinical Insights Focused on Clinical Implications
The HiD 2023 agenda incorporates a multispecialty approach for improved patient care
June 5, 2023, PHILADELPHIA—Following a successful meeting in 2022, this year, the Heart in Diabetes Conference is looking forward to hosting its annual meeting in Philadelphia. HiD 2023 will be held at the Hilton Penn's Landing in Philadelphia, PA, on June 9–11, 2023. This is a live-in-person conference followed by 90 days on demand. The conference will offer 27 CME/MOC credits.
"The Heart in Diabetes (HiD) conference, entering its seventh year, is a renowned medical meeting that brings together global clinical leaders in diabetes, obesity, and cardiorenal metabolic diseases along with practicing clinicians to improve the care of patients at high risk of these comorbidities. This is a unique and exciting multidisciplinary program where the heart, kidney, and diabetes meet in clinical practice."
The meeting will focus on clinical implications, and all sessions will include panel discussions and an open forum for audience questions and ample opportunities to interact with the faculty.
The conference holds an important poster program featuring the latest developments in research, oral abstract presentations, an attractive exhibit hall, and industry-supported non-CME programs that feature evolving new scientific concepts presented by some of the world's best-known educators in their fields. The abstracts are published in American Heart Journal (Editor-in-Chief: Daniel Mark, MD, MPH).
The 2023 Luminary in Cardiometabolic Medicine Award will be presented to George Bakris MD, who will give a keynote lecture on June 10, 2023, entitled "Evolution of Renoprotective Therapy in Diabetes Translated into Cardioprotection".
All members of the media are encouraged to attend and cover the conference.
For complimentary media registration to attend the meeting, please contact JC F. Javellana jcj@tmioa.com
If you are a cardiologist, endocrinologist, nephrologist, diabetologist, lipidologist, internist, or clinician with an interest in the science of the Heart in Diabetes, this meeting is for you!
You may register online at: https://www.heartindiabetes.com/registration.
Contact:
JC F. Javellana
Marketing and Administrative Associate
The Metabolic Institute of America (TMIOA.com)
Office (818) 342 1889 • Fax (818) 708 0154 jcj@tmioa.com