The Bugs in the Bags: The Risk Associated with the Introduction of Small Quantities of Fruit and Plants by Airline Passengers
Cited by 4
| Viewed by 2479
Abstract
Among European countries, Italy is the most exposed to the risk of biological invasions, principally for its numerous entry points (ports and airports) and for climatic conditions favorable for the acclimatization of several invasive species. Here it was assessed that the greatest threats
[...] Read more.
Among European countries, Italy is the most exposed to the risk of biological invasions, principally for its numerous entry points (ports and airports) and for climatic conditions favorable for the acclimatization of several invasive species. Here it was assessed that the greatest threats to our agro-ecosystems come mainly from the passenger baggage in which a variety of fruits and vegetables are carried. From 2016 to 2021, large quantities of plant products were found in the luggage of passengers travelling from outside the EU and seized at the BCPs (border control posts) in the Campania region. Inspections and the following laboratory analyses were conducted on the plant material to assess the presence of exotic pests. Inspections led to several non-native species being recorded, and among the intercepted organisms, some should be considered "alarming", such as
Bactrocera dorsalis
,
Anastrepha obliqua
, and
Leucinodes africensis
. Despite a well-organized border inspection system, travelers transporting infested material unknowingly contribute to increasing the risk of the introduction of exotic species. Given the current situation, it is necessary to impose stricter controls and greater attention, ensuring compliance with the requirements of the new phytosanitary regulations by the actors involved in the transport of plant material. Finally, it is essential to improve awareness through a phytosanitary campaign on plant health risks, especially for people wishing to transport fruits and vegetables in their luggage.
Full article
►

▼

Show Figures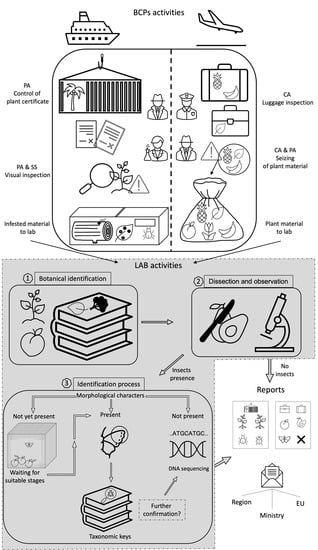 Figure 1