Conferences
Upcoming MDPI Conferences (2)
28–31 May 2024
Polymers 2024 – Polymers for a Safe and Sustainable Future
Athens, Greece
We are very proud and honored to announce the international conference "Polymers 2024—Polymers for a Safe and Sustainable Future", organized in collaboration with the MDPI open access journal Polymers, Aristotle University of Thessaloniki and BIOMAC project, and Exelisis Co. The conference will be held in Athens, Greece, on May 28–31, 2024.
Polymers 2024 is an international conference that will explore the latest advances in polymer science to produce safe and sustainable materials, with unique properties for human health and environmental sustainability. The conference will also discuss clean, green, and efficient production processes, life cycle assessments, exposure, risk assessment, decontamination and environmental remediation, and novel techniques for polymer recycling and reuse. Polymers 2024 is a unique opportunity for polymer scientists from around the world to present their work and innovations in polymer chemistry and technology under the view of sustainable development.
The conference follows the previous successful meetings Polymers 2018—Polymers: Design, Function and Application held in March 2018, Barcelona, Spain and Polymers 2022: New Trends in Polymer Science: Health of the Planet, Health of the People held in May 2022 in Turin, Italy.
We welcome abstracts for posters or short talks related to the conference theme, which will be considered for presentation at the conference. Meeting participants will have the opportunity to present their work and discuss their research in a stimulating environment.
We look forward to welcoming you to Athens!
Prof. Dr. Dimitrios Bikiaris, Prof. Dr. Konstantinos Triantafyllidis, and Dr. Ioanna Deligkiozi
Polymers 2024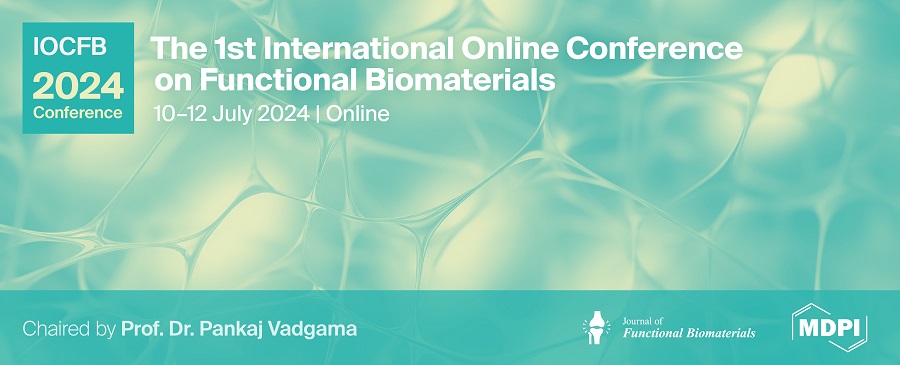 10–12 July 2024
The 1st International Online Conference on Functional Biomaterials
Online
We cordially invite you to attend this event organized by MDPI's Journal of Functional Biomaterials (ISSN 2079-4983, Impact Factor 4.8). It will take place virtually on 10–12 July 2024, online.
Conference Chair
Prof. Dr. Pankaj Vadgama, School of Engineering and Materials Science, Queen Mary University of London, UK.
Topics of Interest:
Dental biomaterials;
Bone biomaterials;
Antibacterial biomaterials;
Biomaterials for tissue engineering;
Biomaterials for drug delivery;
Biomaterials for diagnostics, therapy and healthcare;
Bio-fabricated and 3D-printed biomaterials.
Important Dates

Deadline for abstract submission: 10th March 2024
Notification of acceptance: 10th April 2024
Deadline for Early Bird Registration: 15th April 2024
Registration deadline: 4th July 2024
Guide for Authors
For any enquiries regarding the event, please contact: iocfb2024@mdpi.com
We look forward to seeing you at the 1st International Online Conference on Functional Biomaterials.
Gels announces selected third-party conferences. In case you would like to announce your own event on the Gels website, please fill out the following form to apply for the announcement of a conference or other academic event (seminar, workshop).
Upcoming Partner Conferences (1)

12–15 December 2023
The 9th Asian Conference on Colloid and Interface Science 2023
Hong Kong, China
Welcome to the 9th ACCIS 2023
On behalf of the organizing committee of ACCIS 2023, it is our great pleasure to warmly welcome you joining the 9th Asian Conference on Colloid and Interface Science at the Chinese University of Hong Kong, Hong Kong SAR, China, starting from 12 December to 15 December, 2023. The ACCIS 2023 represents a return of face-to-face conference after the pandemic of COVID and provides an international forum for presentations and discussion, among both professional and students alike, of the latest findings in all aspects of colloids, interface sciences and nanotechnologies.
The ACCIS 2023 is comprised of six symposia: 1) Amphiphilic and Supramolecular Assemblies; 2) Colloid, Interface, and Surface Forces; 3) Emulsion, Microemulsion, Foam, Wetting and Lubrication; 4) Biomimetic Materials, Drug Delivery, Nanomedicine and Pharmacy; 5) Polymer, Polymer Colloids, Surfactant and Gels; 6) Interfacial Phenomena in Energy Materials and Technological Applications. Thanks to the organizing committee members, local advisory committee members and international advisory committee members of the Asian Society for Colloid and Surface Science (ASCASS) for making it possible.
The ACCIS 2023 features plenary, keynote, invited lectures as well as oral and poster presentations. I truly believe that the ACCIS 2023 will be an insightful opportunity to meet and discuss with our local prominent scientists and researchers and to learn the cutting-edge research works done in Hong Kong.
I kindly invite you for your active participation and discussion during the ACCIS 2023. I hope you enjoy the program, as well as the cosmopolitan environment and experience the fusion of diffident cultures in Hong Kong, the Pearl of the Orient.