Protective Human Anti-Poxvirus Monoclonal Antibodies Are Generated from Rare Memory B Cells Isolated by Multicolor Antigen Tetramers
Cited by 8
| Viewed by 1958
Abstract
Smallpox, an epidemic disease caused by
Orthopoxvirus variola
, was eradicated worldwide through immunization. The immunization against smallpox was discontinued in 1980. However, incidences of monkeypox virus infection in humans have occurred sporadically, and there is also great fear that engineered forms of
[...] Read more.
Smallpox, an epidemic disease caused by
Orthopoxvirus variola
, was eradicated worldwide through immunization. The immunization against smallpox was discontinued in 1980. However, incidences of monkeypox virus infection in humans have occurred sporadically, and there is also great fear that engineered forms of poxvirus could be used as biological weapons. Therefore, monoclonal antibodies against poxvirus are urgently needed for the detection and treatment of poxvirus infection. The vaccinia virus' extracellular envelope protein A33 is a potential candidate for a subunit vaccine. We used multi-fluorescence-labeled tetrameric A33 antigen to identify rare poxvirus-specific memory B cells from the PBMC of volunteers with vaccinia virus immunization more than 40 years ago. Despite extremely low frequencies of the poxvirus-specific memory B cells, we successfully sorted A33 tetramer-labeled single memory B cells and reconstructed the antibodies with the single-cell RT-PCR of the B-cell receptor. Among the monoclonal antibodies, one clone H2 exhibited high specificity and affinity with A33. H2 efficiently inhibited viral infection and spread in cells. Passive immunotherapy of H2 in mice protected mice from lethal infection when administered either prophylactically or therapeutically. These results suggest the potential of anti-A33 human-antibody-based detection and therapeutics for poxvirus infection.
Full article
►

▼

Show Figures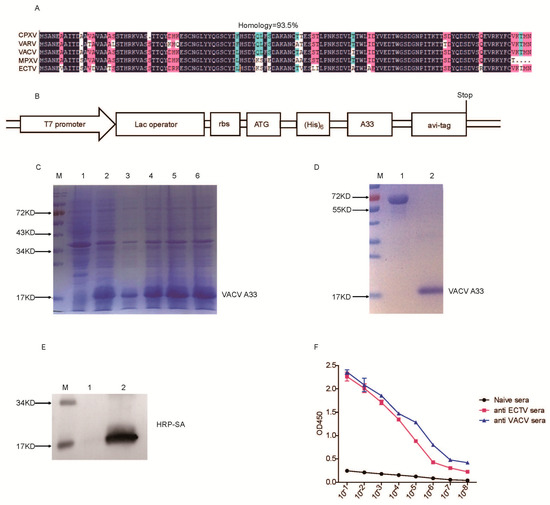 Figure 1