Chemical Compounds Emitted from Mentha spicata Repel Aromia bungii Females
Cited by 2
| Viewed by 1570
Abstract
Aromia bungii
(Coleoptera: Cerambycidae) is an economically important wood-boring insect pest of stone fruit trees, particularly
Prunus persica
, in China. It has entered Japan and several European countries as an invasive species in recent years. It is difficult to control because of
[...] Read more.
Aromia bungii
(Coleoptera: Cerambycidae) is an economically important wood-boring insect pest of stone fruit trees, particularly
Prunus persica
, in China. It has entered Japan and several European countries as an invasive species in recent years. It is difficult to control because of the cryptic feeding behaviour of larvae beneath the bark. Identification of repellent constituents from non-host plants has potential for use in management strategies against this beetle.
Mentha spicata
is cultivated extensively in Hebei Province (China) as a medicinal plant. Firstly, antennal responses of female
A. bungii
to
M. spicata
volatiles were evaluated by coupled gas chromatography-electroantennograms (GC-EAD), and then the EAD-active components were tested in semi-field trials. The results showed that
A. bungii
females were significantly repelled by myrcene, (
S
)-(+)-carvone, (
E
)-β-caryophyllene, and borneol compared with the control. The presence of myrcene (100 µL; 90% purity), (
S
)-(+)-carvone (200 µL; 96% purity), (
E
)-β-caryophyllene (500 µL; 98.5% purity), and borneol (800 µL; 80% purity) significantly reduced the perching rates of
A. bungii
females on both peach logs and leaves. Considering cost and commercial availability, we suggest that myrcene, (
S
)-(+)-carvone, and (
E
)-β-caryophyllene could be promising repellents against
A. bungii
females in the field.
Full article
►

▼

Show Figures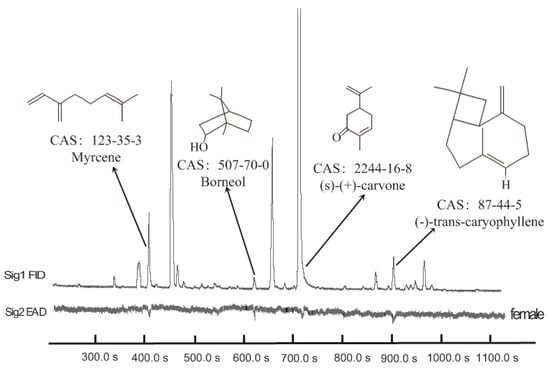 Figure 1