Pediatric Gaucher Disease Presenting with Massive Splenomegaly and Hepatic Gaucheroma
Cited by 2
| Viewed by 1070
Abstract
Gaucher Disease (GD) is a condition resulting from an autosomal recessive inheritance pattern, characterized by a deficiency of the lysosomal enzyme beta-glucocerebrosidase. This leads to the accumulation of glucocerebroside and other glycolipids in multiple tissues, causing damage to various organ systems. The diagnosis
[...] Read more.
Gaucher Disease (GD) is a condition resulting from an autosomal recessive inheritance pattern, characterized by a deficiency of the lysosomal enzyme beta-glucocerebrosidase. This leads to the accumulation of glucocerebroside and other glycolipids in multiple tissues, causing damage to various organ systems. The diagnosis of GD can be challenging due to its heterogeneity, non-specific symptoms, and variability across different geographic regions and age groups. Although GD is suspected based on symptoms or signs, the diagnosis is confirmed through the measurement of deficient b-glucocerebrosidase activity and the identification of biallelic pathogenic variants in the
GBA
gene. Intravenous enzyme replacement therapy (ERT) is recommended for GD patients. In this paper, we report a case of a 2-year and 8-month-old girl with massive splenomegaly and radiological finding of hepatic gaucheroma, in whom a genetic study showed homozygous mutation on the
GBA
gene at c.1448T>C (p.Leu483Pro) and certified the diagnosis of GD. This patient represents the youngest child reported to have gaucheroma and also the first one presenting with gaucheroma at the diagnosis and not during the follow up, highlighting that GD should be routinely included in the differential diagnosis of children presenting with splenomegaly and hepatomegaly, taking into account that the early start of ERT can change the natural history of the disease-preventing serious complications.
Full article
►

▼

Show Figures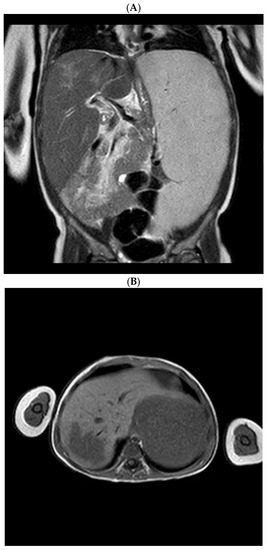 Figure 1