Studies on the Interaction of Rose Bengal with the Human Serum Albumin Protein under Spectroscopic and Docking Simulations Aspects in the Characterization of Binding Sites
Cited by 2
| Viewed by 904
Abstract
Rose Bengal (RB) is a xanthene dye used as a sensitizer to convert triplet (
3
O
2
) to singlet oxygen (
1
O
2
). This photophysical property makes it one of the most used dyes in photodynamic therapy. Thus, understanding
[...] Read more.
Rose Bengal (RB) is a xanthene dye used as a sensitizer to convert triplet (
3
O
2
) to singlet oxygen (
1
O
2
). This photophysical property makes it one of the most used dyes in photodynamic therapy. Thus, understanding its interaction with biomacromolecules can provide helpful information about its mode of action and application. The protein chosen for this study was human serum albumin (HSA), which has nine binding sites for fatty acids (FA), and at least three sites for interactions of drugs (DS). The complexation of HSA with RB caused a maximum bathochromic shift in its absorption. From this displacement and the application of the Benesi–Hildebrand model, the ligand–protein association constant (3.90 ± 0.08 × 10
5
M
−1
) was obtained. Applying the Job's Plot method resulted in a 6:1 (ligand-protein) stoichiometry. The determination of preferred binding sites was performed by measuring the association constant in the presence of drugs for which their binding sites in HSA are already well established, such as warfarin (DS1), ibuprofen (DS2 and FA6), digitoxin (DS3), diazepam (DS2), and diflunisal (DS2 and FA6). From these studies, it was found that RB is able to bind at DS1, DS3, and FA6 sites but not at DS2. Subsequently, molecular docking studies using the 2BX8 and 2BXE crystallographic structures were performed and corroborated the experimental results. The lowest energy poses were −52.13, −58.79, and −67.55 kcal mol
−1
at DS1, DS3, and FA6, respectively. Conversely, DS2 was the lower affinity binding site. In conclusion, HSA has a high affinity for RB, being able to bind up to six dye molecules.
Full article
►

▼

Show Figures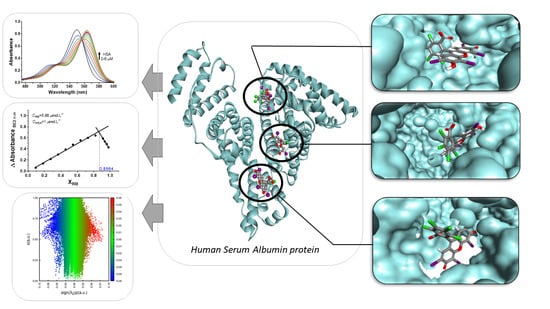 Graphical abstract