Need Help?
Support
Find support for a specific problem in the support section of our website.
Get Support
Feedback
Please let us know what you think of our products and services.
Give Feedback
Information
Visit our dedicated information section to learn more about MDPI.
Get Information
clear
5 June 2023
Cancers | Cancer Immunotherapy Awareness Month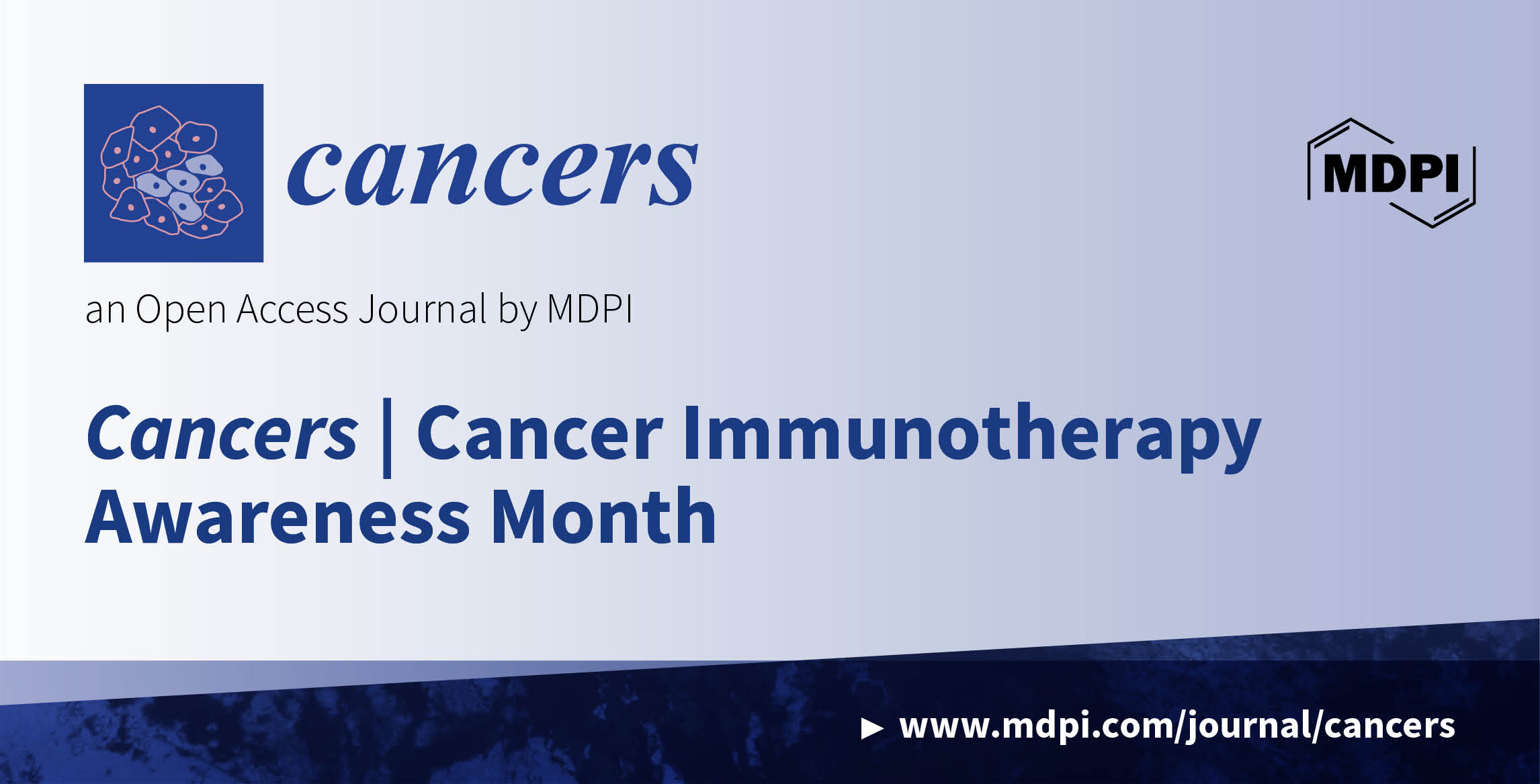 June is designated as "Cancer Immunotherapy Awareness Month", with various global activities to celebrate in this important month. Immunotherapy is a type of cancer treatment and can be used alone or in combination with chemotherapy and/or other cancer treatments. Taking this opportunity, we would like to extend our appreciation to all the researchers who have contributed to the fight against cancer.
In particular, we would like to share some of the high-quality and innovative research findings in the field of cancer immunotherapy, published in Cancers (ISSN: 2072-6694).
We hope this announcement will provide useful information for this field.
"Immune Checkpoint Inhibitors for the Treatment of Bladder Cancer"
by Antonio Lopez-Beltran, Alessia Cimadamore, Ana Blanca, Francesco Massari, Nuno Vau, Marina Scarpelli, Liang Cheng and Rodolfo Montironi
Cancers 2021, 13(1), 131; https://doi.org/10.3390/cancers13010131
"STING Agonists as Cancer Therapeutics"
by Afsaneh Amouzegar, Manoj Chelvanambi, Jessica N. Filderman, Walter J. Storkus and Jason J. Luke
Cancers 2021, 13(11), 2695; https://doi.org/10.3390/cancers13112695
"IL-12 Family Cytokines in Cancer and Immunotherapy"
by Bhalchandra Mirlekar and Yuliya Pylayeva-Gupta
Cancers 2021, 13(2), 167; https://doi.org/10.3390/cancers13020167
"Talimogene Laherparepvec (T-VEC): An Intralesional Cancer Immunotherapy for Advanced Melanoma"
by Pier Francesco Ferrucci, Laura Pala, Fabio Conforti and Emilia Cocorocchio
Cancers 2021, 13(6), 1383; https://doi.org/10.3390/cancers13061383
"The Role of Macrophages in Cancer Development and Therapy"
by Ewa Cendrowicz, Zuzanna Sas, Edwin Bremer and Tomasz P. Rygiel
Cancers 2021, 13(8), 1946; https://doi.org/10.3390/cancers13081946
"CTLA-4 in Regulatory T Cells for Cancer Immunotherapy"
by Navid Sobhani, Dana Rae Tardiel-Cyril, Aram Davtyan, Daniele Generali, Raheleh Roudi and Yong Li
Cancers 2021, 13(6), 1440; https://doi.org/10.3390/cancers13061440
"The Functional Crosstalk between Myeloid-Derived Suppressor Cells and Regulatory T Cells within the Immunosuppressive Tumor Microenvironment"
by Maximilian Haist, Henner Stege, Stephan Grabbe and Matthias Bros
Cancers 2021, 13(2), 210; https://doi.org/10.3390/cancers13020210
"Neutrophil Extracellular Traps (NETs) in Cancer Invasion, Evasion and Metastasis"
by Urszula Demkow
Cancers 2021, 13(17), 4495; https://doi.org/10.3390/cancers13174495
"The Role of Antigen Processing and Presentation in Cancer and the Efficacy of Immune Checkpoint Inhibitor Immunotherapy"
by Anastasia Mpakali and Efstratios Stratikos
Cancers 2021, 13(1), 134; https://doi.org/10.3390/cancers13010134
"Immune Resistance in Lung Adenocarcinoma"
by Magda Spella and Georgios T. Stathopoulos
Cancers 2021, 13(3), 384; https://doi.org/10.3390/cancers13030384
"Overcoming Challenges for CD3-Bispecific Antibody Therapy in Solid Tumors"
by Jim Middelburg, Kristel Kemper, Patrick Engelberts, Aran F. Labrijn, Janine Schuurman and Thorbald van Hall
Cancers 2021, 13(2), 287; https://doi.org/10.3390/cancers13020287
"Tumor-Associated Microglia and Macrophages in the Glioblastoma Microenvironment and Their Implications for Therapy"
by Rikke Sick Andersen, Atul Anand, Dylan Scott Lykke Harwood and Bjarne Winther Kristensen
Cancers 2021, 13(17), 4255; https://doi.org/10.3390/cancers13174255
"LAG-3 Blockade with Relatlimab (BMS-986016) Restores Anti-Leukemic Responses in Chronic Lymphocytic Leukemia"
by Christian Sordo-Bahamonde, Seila Lorenzo-Herrero, Ana P. González-Rodríguez, Ángel R. Payer, Esther González-García, Alejandro López-Soto and Segundo Gonzalez
Cancers 2021, 13(9), 2112; https://doi.org/10.3390/cancers13092112
"Tumor Heterogeneity: A Great Barrier in the Age of Cancer Immunotherapy"
by Nader El-Sayes, Alyssa Vito and Karen Mossman
Cancers 2021, 13(4), 806; https://doi.org/10.3390/cancers13040806
"Role of Methylation in Pro- and Anti-Cancer Immunity"
by Ali Mehdi and Shafaat A. Rabbani
Cancers 2021, 13(3), 545; https://doi.org/10.3390/cancers13030545
"Cardiac Toxicity Associated with Immune Checkpoint Inhibitors: A Systematic Review"
by Walid Shalata, Amjad Abu-salman, Rachel Steckbeck, Binil Mathew Jacob, Ismaell Massalha and Alexander Yakobson
Cancers 2021, 13(20), 5218; https://doi.org/10.3390/cancers13205218
"Measles Virus as an Oncolytic Immunotherapy"
by Christine E. Engeland and Guy Ungerechts
Cancers 2021, 13(3), 544; https://doi.org/10.3390/cancers13030544
"Agonistic CD40 Antibodies in Cancer Treatment"
by Dijana Djureinovic, Meina Wang and Harriet M. Kluger
Cancers 2021, 13(6), 1302; https://doi.org/10.3390/cancers13061302
"Oncolytic Viruses: Newest Frontier for Cancer Immunotherapy"
by Masmudur M. Rahman and Grant McFadden
Cancers 2021, 13(21), 5452; https://doi.org/10.3390/cancers13215452
"Association between Immune Related Adverse Events and Outcome in Patients with Metastatic Renal Cell Carcinoma Treated with Immune Checkpoint Inhibitors"
by Agnese Paderi, Roberta Giorgione, Elisa Giommoni, Marinella Micol Mela, Virginia Rossi, Laura Doni, Andrea Minervini, Marco Carini, Serena Pillozzi and Lorenzo Antonuzzo
Cancers 2021, 13(4), 860; https://doi.org/10.3390/cancers13040860
"TAM Receptor Inhibition–Implications for Cancer and the Immune System"
by Pia Aehnlich, Richard Morgan Powell, Marlies J. W. Peeters, Anne Rahbech and Per thor Straten
Cancers 2021, 13(6),1195; https://doi.org/10.3390/cancers13061195
"Ovarian Cancer in the Era of Immune Checkpoint Inhibitors: State of the Art and Future Perspectives"
by Brigida Anna Maiorano, Mauro Francesco Pio Maiorano, Domenica Lorusso and Evaristo Maiello
Cancers 2021, 13(17), 4438; https://doi.org/10.3390/cancers13174438
"The Current Landscape of NKT Cell Immunotherapy and the Hills Ahead"
by Adam Nelson, Jordan D. Lukacs and Brent Johnston
Cancers 2021, 13(20), 5174; https://doi.org/10.3390/cancers13205174