Dexamethasone Modulates the Dynamics of Wnt Signaling in Human Trabecular Meshwork Cells
Abstract
Trabecular meshwork (TM) tissue is highly specialized, and its structural integrity is crucial for maintaining homeostatic intraocular pressure (IOP). The administration of glucocorticoids, such as dexamethasone (DEX), can perturb the TM structure and significantly increase IOP in susceptible individuals, resulting in ocular diseases
[...] Read more.
Trabecular meshwork (TM) tissue is highly specialized, and its structural integrity is crucial for maintaining homeostatic intraocular pressure (IOP). The administration of glucocorticoids, such as dexamethasone (DEX), can perturb the TM structure and significantly increase IOP in susceptible individuals, resulting in ocular diseases such as steroid-induced glaucoma, a form of open-angle glaucoma. Although the exact mechanism involved in steroid-induced glaucoma remains elusive, increasing evidence suggests that DEX may act through various signaling cascades in TM cells. Despite uncertainty surrounding the specific process by which steroid-induced glaucoma occurs, there is growing evidence to indicate that DEX can impact multiple signaling pathways within TM cells. In this study, we examined the impact of DEX treatment on the Wnt signaling pathway in TM cells, given that Wnt signaling has been reported to play a crucial role in regulating extracellular matrix (ECM) levels in the TM. To further elucidate the role of Wnt signaling in the glaucomatous phenotype, we examined mRNA expression patterns between Wnt signaling markers
AXIN2
and
sFRP1
and DEX-mediated induction of myocilin (
MYOC
) mRNA and protein levels over 10 days in DEX-treated primary TM cells. We observed a sequential pattern of peak expression between
AXIN2
,
sFRP1
, and
MYOC.
Based on the study, we propose that
sFRP1
upregulation could be a result of a negative feedback mechanism generated by stressed TM cells to suppress abnormal Wnt signaling activities.
Full article
►

▼

Show Figures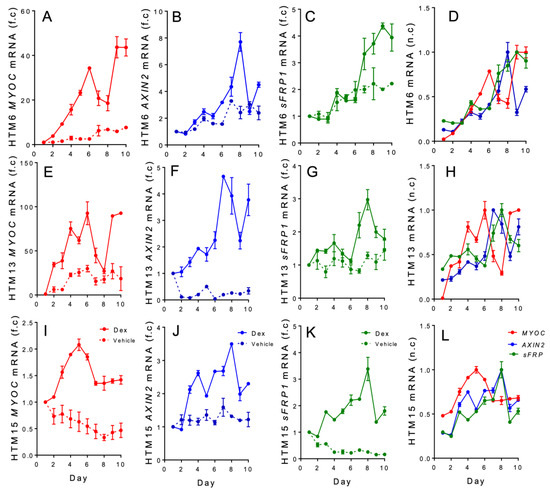 Figure 1