Macroscopic Skin Examination Can Determine the Number of Strips Necessary to Study the stratum corneum in Dogs
Viewed by 544
Abstract
To evaluate the skin barrier, the
stratum corneum
(SC) must be isolated and extracted. Currently, skin biopsy is the gold standard method to investigate skin immunology and the presence of biomarkers in dogs. However, a standardized, non-invasive tool to exclusively remove the SC
[...] Read more.
To evaluate the skin barrier, the
stratum corneum
(SC) must be isolated and extracted. Currently, skin biopsy is the gold standard method to investigate skin immunology and the presence of biomarkers in dogs. However, a standardized, non-invasive tool to exclusively remove the SC would be of great interest to study healthy and atopic dogs. In this study, we performed D-squames
®
tape stripping with standardized pressure on seven healthy beagle dogs. A control site was defined and then 25 strips, 50 strips and as many strips as needed to achieve a shiny appearance of the skin were performed on three different experimental sites. After stripping, blinded histopathological examination of a skin biopsy from each site was performed. The number of tape strips required for the skin to become shiny varied between individuals, with a mean of 40 (29–50) strips. There was no significant difference in SC depth between the control site and the site that underwent 25 tape strips. In contrast, the use of 50 strips removed almost all of the SC, with a mean remaining SC depth of 7.82 µm. These data suggest that this non-invasive method can effectively remove the SC, with individual variability, and that a shiny appearance of the skin after stripping can be used as an accurate marker of SC removal.
Full article
►

▼

Show Figures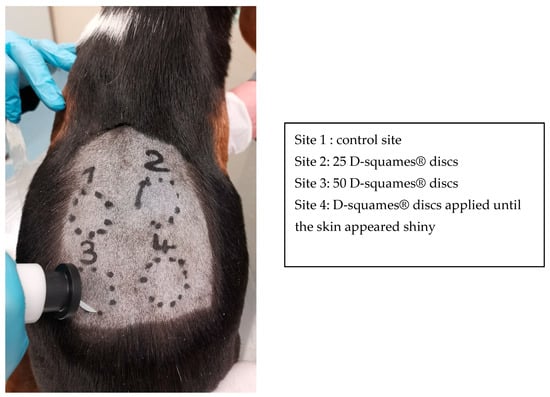 Figure 1