Ameliorative Effects of Luteolin and Activated Charcoal on Growth Performance, Immunity Function, and Antioxidant Capacity in Broiler Chickens Exposed to Deoxynivalenol
Cited by 1
| Viewed by 839
Abstract
Deoxynivalenol (DON, Vomitoxin) is a threatening mycotoxin that mainly produces oxidative stress and leads to hepatotoxicity in poultry. Antioxidant dietary supplements dramatically boost immunity, safeguarding animals from DON poisoning. Luteolin (LUT) is an active plant-derived compound that poses influential antioxidants. This study explored
[...] Read more.
Deoxynivalenol (DON, Vomitoxin) is a threatening mycotoxin that mainly produces oxidative stress and leads to hepatotoxicity in poultry. Antioxidant dietary supplements dramatically boost immunity, safeguarding animals from DON poisoning. Luteolin (LUT) is an active plant-derived compound that poses influential antioxidants. This study explored the effectiveness of LUT in combination with activated charcoal (AC) in detoxifying DON in broilers. The 180 one-day broiler chickens were allocated into five different groups having six replicates in each group, provided with ad libitum feed during the trial period (28 days) as follows: in the control group, basal diet (feed with no supplementation of LUT, AC or DON); in group 2, a basal diet added with 10 mg/kg DON from contaminated culture (DON); in group 3, a basal diet augmented by 350 mg/kg LUT and DON 10 mg/kg (DON + LUT); in group 4, a basal diet supplemented by DON 10 mg/kg + AC 200 mg/kg (DON + AC); and in group 5, a basal diet supplemented by 10 mg/kg DON + 350 mg/kg LUT + 200 mg/kg AC (DON + LUT + AC). Concerning the control group, the DON-treated broilers demonstrated a significant decrease in growth performance (
p
< 0.05) and serum immunoglobulin (
p
< 0.05) contents, negatively changing the serum biochemical contents and enzymatic activities and an increase in histopathological liver lesions. Furthermore, DON substantially increased (
p
< 0.05) malondialdehyde (MDA) concentration and decreased total superoxide dismutase (T-SOD), catalase (CAT), and glutathione peroxidase (GSH-Px) levels in the serum and liver. The intake of AC and LUT to the DON-contaminated diet decreased DON residue in the liver and potentially reduced the adverse effects of DON. Considering the results, supplementation of LUT with mycotoxin adsorbent has protective effects against mycotoxicosis caused by DON. It could be helpful for the development of novel treatments to combat liver diseases in poultry birds. Our findings may provide important information for applying LUT and AC in poultry production.
Full article
►

▼

Show Figures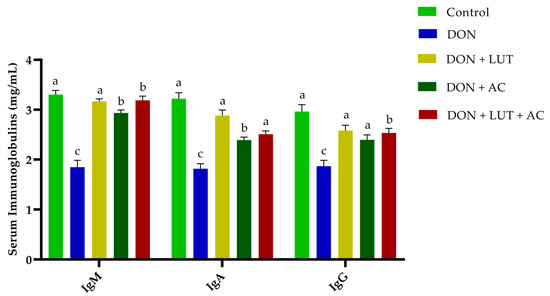 Figure 1