Conferences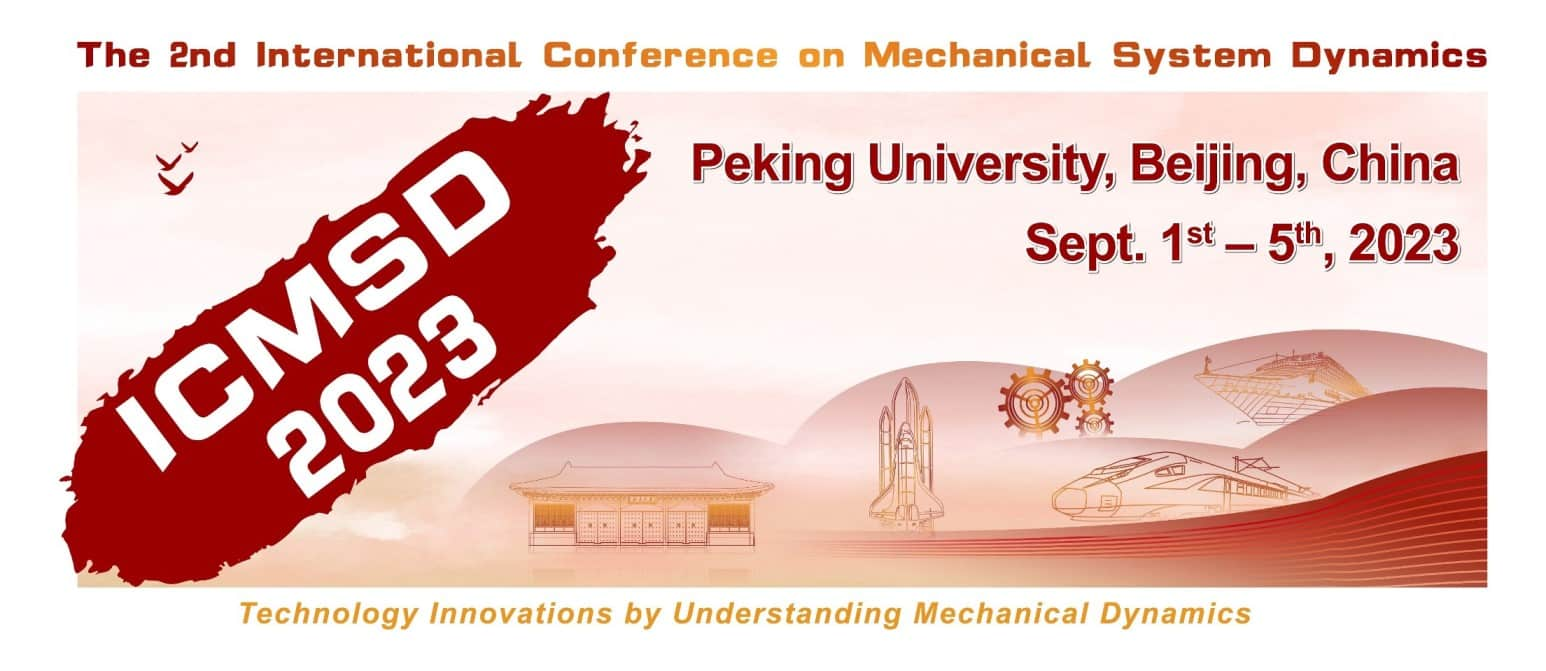 The 2nd International Conference on Mechanical System Dynamics (ICMSD2023) will be hosted by Peking University in Beijing, China, Sept 1–5 2023.
ICMSD2023 is devoted to "Technology Innovations by Understanding Mechanical Dynamics", with 18 sessions to promote research in dynamic theories on complex structures, multi-disciplinary integration, and advanced technologies for various applications. The scientific committee of ICMSD2023 is now composed of 60 prestigious scientists from 13 countries and regions.
The topics of the conference include, but are not limited to, the following:
Dynamic theories on complex structures


Multi-body systems and mechanism dynamics;
Vibration and control;
Non-linear dynamics;
Analytical mechanics;
Multi-body system transfer matrix method (Rui method) and its applications.
Multi-disciplinary integration


Algorithm and software of multi-body system dynamics;
Stochastics and uncertainty modeling;
Tribology and low-speed impact;
Parallel mechanism and robotic system dynamics;
Fluid–solid coupled systems;
Inverse problems and data-driven dynamics;
Applications of multi-body system dynamic methods in acoustics, optics, electricity, magnetism and thermology.
Advanced technologies for various applications


Dynamics of connection structures;
Spacecraft dynamics;
Vehicle dynamics;
Bionics and intelligence;
Dynamics in electronics manufacturing;
Energy harvesting and wave motion.
You cordially invited to share your latest research (including abstracts or full-length papers) on any topics. After peer review, accepted full-length papers will be indexed in EI COMPENDEX and SCOPUS. Submissions can be made through our website (https://www.icmsd-conference.com/).
Important Dates
2023.03.28 Abstract submission deadline
2023.04.30 Abstract acceptance notification and full-length paper invitation
2023.06.13 Full-length paper submission deadline
2023.07.15 Full-length paper acceptance notification
2023.07.31 Early bird registration deadline
2023.09.01 On-site registration
The conference will continue to provide a platform for global scientists in the field of mechanical system dynamics to exchange scientific and technical ideas.
For more information, please visit our website (https://www.icmsd-conference.com/) or contact us via E-mail (ICMSD2@coe.pku.edu.cn).