Evaluation of Olive Varieties Resistance for Sustainable Management of Verticillium Wilt
Cited by 1
| Viewed by 1226
Abstract
Verticillium wilt resulting from infection by
Verticillium dahliae
is one of the most devastating soilborne fungi of the olive tree (
Olea europaea
L.) worldwide. The pathogen infects a wide variety of plants and can survive in the soil for many years, and
[...] Read more.
Verticillium wilt resulting from infection by
Verticillium dahliae
is one of the most devastating soilborne fungi of the olive tree (
Olea europaea
L.) worldwide. The pathogen infects a wide variety of plants and can survive in the soil for many years, and chemicals cannot control it. Therefore, sustainable disease management strategies are suggested, with the exploitation of host resistance as the most predominant control measure in practice. In addition, disease risk assessment in commonly used plant genotypes is a prominent issue. In this respect, nine commercially grown Greek olive varieties ('Amfissis', 'Atsiholou', 'Chalkidikis', 'Koroneiki', 'Kothreiki', 'Koutsourelia', 'Mastoidis', 'Megaritiki', and 'Tragolia') and one variety of international interest ('Picual') were comparatively evaluated for their resistance to
V. dahliae
. The roots of young plants were immersed in a concentrated conidial suspension in order to perform an artificial inoculation. We evaluated disease reactions in a 140-day assessment period based on external symptoms (disease severity, disease incidence, and mortality) and calculated the relative areas under disease progress curves (relative AUDPC). The process of qPCR was used to evaluate
V. dahliae
DNA in vascular tissues and plant growth parameters (height and fresh weight). A cumulative stress response was calculated to consider the overall effect of
V. dahliae
on olive cultivars. The olive varieties resistance to
V. dahliae
varied significantly, with 'Koroneiki', 'Tragolia', and 'Atsiholou' being the most resistant. Interestingly, most tested varieties showed a significantly low resistance level, suggesting increased risk for the Greek olive industry due to
V. dahliae.
Full article
►

▼

Show Figures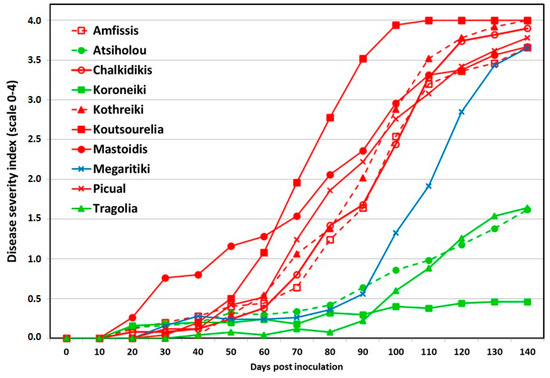 Figure 1