Conferences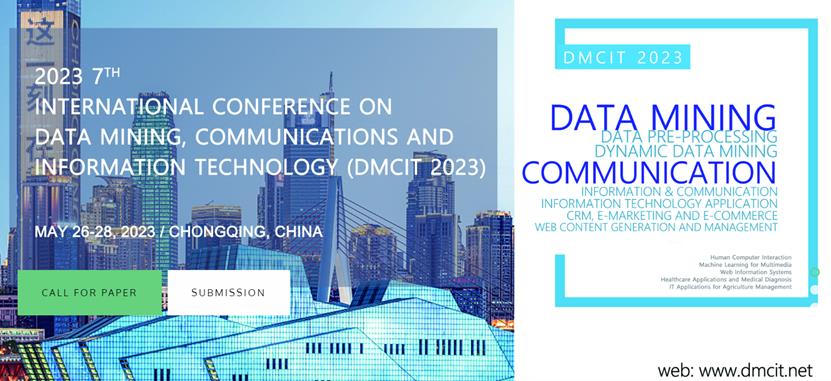 DMCIT 2023 is organized by the Asia Pacific Institute of Science and Engineering (APISE) and sponsored by Jiangnan University and will be held in Chongqing Jiayu Emperor Hotel, Chongqing, China, on 26–28 May 2023.
This conference aims to provide a platform for researchers and engineers to share their ideas, recent developments and successful practices in data mining, communication and the related topics in information technology. It is expected that with the face-to-face discussions among peers from different but related areas, new ideas, methodologies and technologies can be produced, and collaborations among researchers in different countries can be facilitated.
We look forward to meeting you in Chongqing! DMCIT 2023 is a leading forum for researchers, practitioners, developers and users to explore cutting-edge ideas and to exchange techniques, tools and experiences. We invite the submission of original research contributions.
Call for paper:
Data preprocessing
Data transformation and dimensionality reduction
Feature extraction and feature selection
Data mining algorithms
Communication networks
Wireless communications
Mobile communications
Infrastructure for next-generation networks
Information and communication
Coding theory
Convergence of data mining and intelligent IT applications
How data mining techniques used in IT applications
Machine learning for multimedia
Human–computer interaction
Biometric identification technology