CrossFit®: 'Unknowable' or Predictable?—A Systematic Review on Predictors of CrossFit® Performance
Abstract
The functional fitness training program CrossFit
®
is experiencing fast-growing and widespread popularity with day-to-day varying 'Workouts of the Day' (WOD). Even among tactical athletes, the training program is widely applied. Nevertheless, there is a lack of data on which parameters influence CrossFit
[...] Read more.
The functional fitness training program CrossFit
®
is experiencing fast-growing and widespread popularity with day-to-day varying 'Workouts of the Day' (WOD). Even among tactical athletes, the training program is widely applied. Nevertheless, there is a lack of data on which parameters influence CrossFit
®
performance. For this reason, the purpose of this study is to conduct a systematic review of the existing literature to identify and summarize predictors of CrossFit
®
performance and performance enhancement. In accordance with the PRISMA guidelines, a systematic search of the following databases was conducted in April 2022: PubMed, SPORTDiscus, Scopus, and Web of Science. Using the keyword 'CrossFit', 1264 entries are found, and 21 articles are included based on the eligibility criteria. In summary, the studies show conflicting results, and no specific key parameter was found that predicts CrossFit
®
performance regardless of the type of WOD. In detail, the findings indicate that physiological parameters (in particular, body composition) and high-level competitive experience have a more consistent influence than specific performance variables. Nevertheless, in one-third of the studies, high total body strength (i.e., CrossFit
®
Total performance) and trunk strength (i.e., back squat performance) correlate with higher workout scores. For the first time, this review presents a summary of performance determinants in CrossFit
®
. From this, a guiding principle for training strategies may be derived, suggesting that a focus on body composition, body strength, and competition experience may be recommended for CrossFit
®
performance prediction and performance enhancement.
Full article
►

▼

Show Figures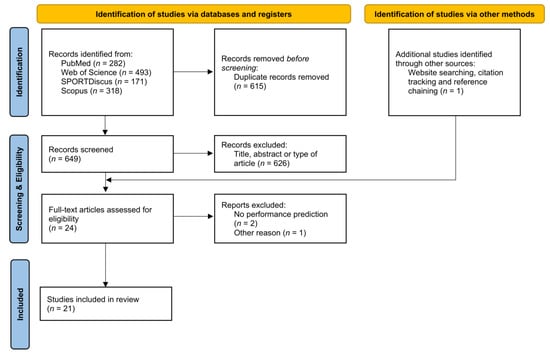 Figure 1