Effect of Vegetable Oils or Glycerol on the In Vitro Ruminal Production of Greenhouse Gases
Abstract
The objective of this research was to evaluate the ruminal fermentation parameters and in vitro Greenhouse gas (GHG) production derived from the fermentation of a balanced sheep diet with the addition of vegetable oils (canola, corn, safflower, and sunflower) or glycerol at different
[...] Read more.
The objective of this research was to evaluate the ruminal fermentation parameters and in vitro Greenhouse gas (GHG) production derived from the fermentation of a balanced sheep diet with the addition of vegetable oils (canola, corn, safflower, and sunflower) or glycerol at different proportions (0, 20, and 40 g/kg of dry matter, DM). The fermentations showed that the highest G
max
was obtained with the addition of 40 g/kg of sunflower oil and 20 g/kg of glycerol with values of 180.97 and 179.95 mL/g DM, respectively. The treatment with 40 g/kg DM of corn oil showed the lowest values in CH
4
production (7.15 mL/g DM when compared to the control) and it seemed to be a potential feeding strategy for reducing GHG emissions without affecting gas production. However, the N-NH
3
content for this treatment in both doses (1.90 and 1.88 mg/dL) indicated that some toxicity for the animal could be expected.
Full article
►

▼

Show Figures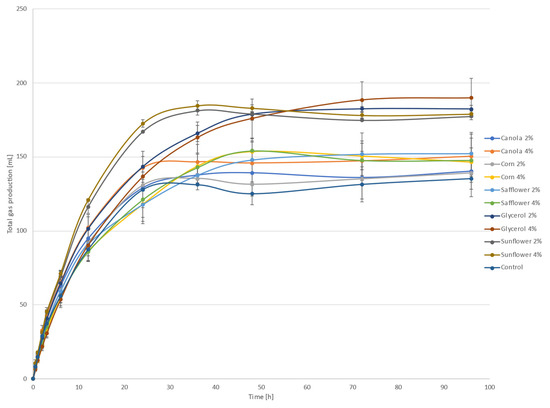 Figure 1