Conferences
2–4 April 2023, Southampton, UK
Wavelength 2023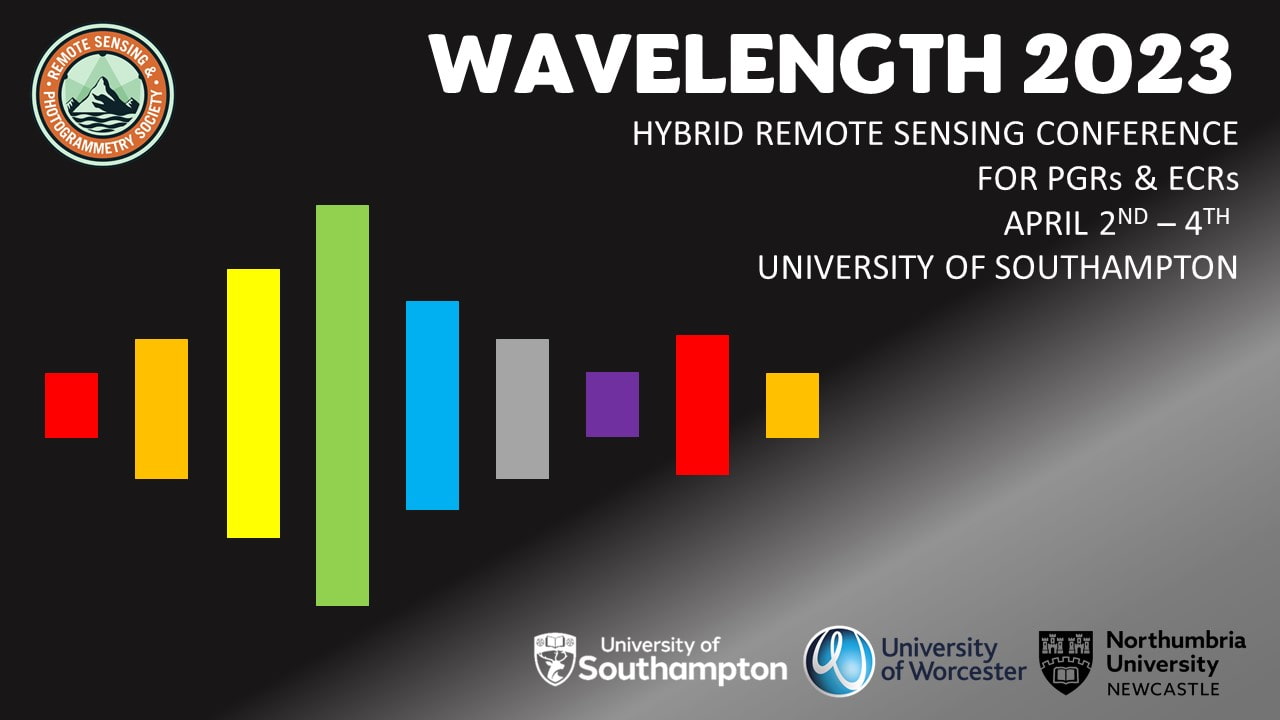 Dear Colleagues,
Announcement - Wavelength 2023
The annual RSPSoc meeting for students and early career professionals
University of Southampton, 2–4 April 2023
The Remote Sensing and Photogrammetry Society's tenth annual Wavelength Conference is being held in a hybrid format (online and in-person) at the University of Southampton in April 2023. Wavelength is an annual meeting which welcomes both postgraduate students and early-career researchers.
Wavelength 2023 will be held on 2–4 April as hybrid event at the University of Southampton. The abstract submission opened on 31 October 2022, and the submission deadline has been extended to 30 January 2023. Please pass the message onto colleagues working within remote sensing and/or photogrammetry.
Why should postgraduates and early-career researchers and professionals attend?
Wavelength provides:
An unintimidating yet professional setting to present work and meet new, like-minded contacts.
A friendly environment with a fun social programme designed to facilitate interaction between representatives from both universities and commercial organisations.
Prizes for the best oral and poster presentations as voted for by the delegates.
Keynote talks delivered by experienced speakers with remote sensing and photogrammetric backgrounds.
Training in relevant topics and skill advancement provided by experienced trainers.
An opportunity to gain wider awareness of remote sensing and photogrammetry within academia and industry.
Excellent value for money with full conference registration being GBP 20 for members (GBP 30 for non-members) and abstract submissions being charged only GBP 15 for members (GBP 25 for non-members), with no additional registration fees for those who submit abstracts.
Feedback has shown over 50% of delegates hear about Wavelength via their supervisors, so please encourage your students to attend this valuable and exciting early-career event. More information is available via the Wavelength website, and please follow us on Facebook and Twitter for regular updates.
Abstracts submission and information can be found on the conference website here.
Kind regards,
Yanna Fidai, Amritha Nair and Eleanor Wratten
RSPSoc Wavelength Representatives
More info: Email wavelength@rspsoc.org.uk Twitter Facebook Website
http://www.rspsoc.org.uk/index.php/wavelength/wavelength-2023.html