Conferences
Upcoming MDPI Conferences (2)

13 July 2023
Topics Webinar | EO&GEO Series: UAV Remote Sensing for LULC, Landscape, Citizen Sciences, 13 July 2023
Online
A message from Prof. Rui Alexandre Castanho, the webinar chair:
Throughout the webinar, we will have the opportunity to hear from leading experts in their fields, engage in productive discussions, and participate in hands-on workshops and activities. We aim to foster new partnerships through collaboration and innovation, providing a platform where a range of ideas can be shared.
Unmanned aerial vehicles (UAVs) have revolutionized remote sensing for land use and land cover (LULC) mapping and landscape analysis. The ability to capture high-resolution aerial imagery and create 3D landscape models has allowed for more accurate and detailed mapping of LULC patterns, changes, and trends over time.
Furthermore, using UAVs for citizen science initiatives has enabled communities to participate in monitoring and managing their local environments. This approach allows for a more collaborative and inclusive approach to environmental management and can help to build community awareness and engagement in environmental issues.
UAVs have also been used for mapping vegetation, soil erosion, and water quality monitoring. These applications have provided researchers and managers with new tools to better understand and manage natural resources. UAVs can collect data quickly and at a high resolution, allowing for more detailed analysis of small-scale features such as vegetation canopy cover, plant height, and soil erosion patterns.
Using UAVs for remote sensing and citizen science initiatives has opened up new opportunities for more efficient and effective environmental monitoring and management. As technology continues to improve, we can expect to see even more innovative applications of UAVs in environmental research and management.
At this webinar, we hope you will gain new insights, make valuable connections, and leave feeling inspired and motivated to drive positive change in your respective fields.
Date: 13 July 2023 at 5:00 p.m. CEST | 11:00 a.m. EDT | 11:00 p.m. CST Asia
Webinar ID: 870 9667 3555
Register now for free!
Speaker/Presentation

Time in CEST

Time in EDT

Prof. Rui Alexandre Castanho
Chair Introduction

5:00–5:10 p.m.

11:00–11:10 a.m.

Dr. Ana Hernando
UAV remote sensing for LULC

5:10–5:50 p.m.

11:10–11:50 a.m.

Dr. Luís Quinta-Nova
Multicriteria Spatial Analysis applied to Agro-environmental Planning

5:50–6:30 p.m.

11:50 a.m.–12:30 p.m.

Q&A Session

6:30–6:55 p.m.

12:30–12:55 p.m.

Prof. Rui Alexandre Castanho
Closing of Webinar

6:55–7:00 p.m.

12:55–01:00 p.m.
After registering, you will receive a confirmation email containing information on how to join the webinar. Registrations with academic institutional email addresses will be prioritized.
Unable to attend? Register as normal to be notified when the recording is available to watch.
Webinar Chair and Keynote Speakers
Rui Alexandre Castanho, Department of Management, WSB University, Dabrowa Górnicza, Poland;
Ana Hernando, Departamento de Ingeniería y Gestión Forestal y Ambiental Department of Forestry and Environmental Engineering and Management, Universidad Politécnica de Madrid, Spain;
Luís Quinta-Nova, Agrarian Higher School, Polytechnic Institute of Castelo Branco, Castelo Branco, Portugal.
Relevant Topic:
"Advances in Earth Observation and Geosciences"
Edited by: Prof. Dr. Diego González-Aguilera and Dr. Pablo Rodríguez-Gonzálvez
Abstract submission deadline: 31 December 2023
Relevant Special Issues:
"Land-Use Planning in Borderlands and Ultra-Peripheral Regions"
Edited by: Dr. Rui Alexandre Castanho, Dr. José Manuel Naranjo Gómez, Prof. Dr. José Martín Gallardo, Dr. José Cabezas Fernández and Prof. Dr. Luís Quinta-Nova
"Planning Peripheral and Ultra-Peripheral Infrastructures"
Edited by: Prof. Dr. Rui Alexandre Castanho, Prof. Dr. Ana Vulevic, Prof. Dr. Gualter Couto and Prof. Dr. José Manuel Naranjo Gómez
"Sustainability in Tourism Activities and the Low-Density and Peripheral Territories"
Edited by: Prof. Dr. Rui Alexandre Castanho and Prof. Dr. Gualter Couto
"Remote Sensing Applications in Land Use, Land-Use Change and Forestry (LULUCF)"
Edited by: Dr. Ali Nadir Arslan, Prof. Dr. Katarzyna Dabrowska-Zielinska and Dr. Jose Manuel Álvarez-Martínez
"Resilient UAV Autonomy and Remote Sensing"
Edited by: Dr. Chi Chen, Dr. San Jiang, Dr. Xijiang Chen, Dr. Mao Tian, Dr. Jianping Li and Dr. Jian Zhou
"Advances on Land Cover/Land Use Ontologies for Innovative Production/Utilization of Land Information"
Edited by: Dr. Antonio Di Gregorio, Dr. Matieu Henry, Chris T. Hill, Prof. John Latham, Prof. Dr. Mohammed Abed Hossain, Dr. Khalid Mahmood and Dr. Foster Mensah
Relevant feature paper:
"The Land Use Mapping Techniques (Including the Areas Used by Pedestrians) Based on Low-Level Aerial Imagery"
by Maciej Smaczyński, Beata Medyńska-Gulij and Łukasz Halik
ISPRS Int. J. Geo-Inf. 2020, 9(12), 754; https://doi.org/10.3390/ijgi9120754
https://us02web.zoom.us/webinar/register/6216857001211/WN_OQj8YIp-RQWC2nnlzNfwFw#/registration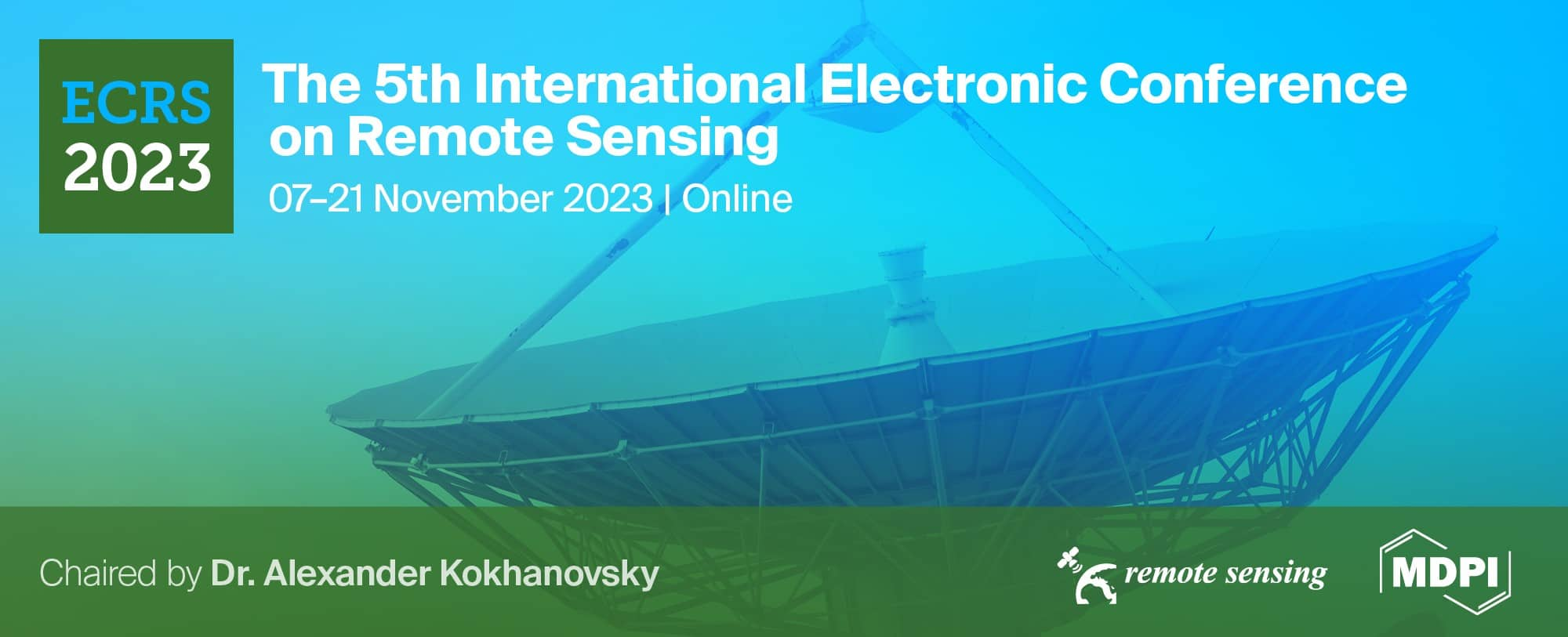 7–21 November 2023
The 5th International Electronic Conference on Remote Sensing
Online
Dear Colleagues,
The 5th International Electronic Conference on Remote Sensing with a focus on "Advances in experimental and theoretical studies of terrestrial atmosphere and underlying surface" will be held on 7–21 November 2023. The main aim of the conference is to present recent advances in experimental and theoretical studies of the atmosphere (trace gases, atmospheric aerosols, cloudiness, precipitation, temperature, and pressure) and underlying surfaces with a focus on cryosphere, which has a great impact, including non-linear impacts, on climate change trends and the warming of our planet. The conference will promote the use of remote sensing and geospatial information technology and enable the exchange of innovative approaches in the area of remote sensing.
This is an excellent opportunity for remote sensing scientists to communicate with their colleagues, learn from each other, and share ideas and results. It will be possible to deliver live and pre-recorded presentations simultaneously.
The main topics and sessions of the conference are as follows:
S1. Remote sensing systems and techniques
S1-1. Ground-based, airborne, shipborne, and spaceborne remote sensing systems;
S1-2. Hyperspectral remote sensing;
S1-3. Lidar remote sensing;
S1-4. Radar remote sensing;
S1-5. Passive remote sensing.
S2. Remote sensing: physical fundamentals and inverse theory
S2-1. Electromagnetic light scattering;
S2-2 Radiative transfer;
S2-3 Inverse theory.
S3. Remote sensing applications
S3-1. Oceanic remote sensing;
S3-2. Vegetation remote sensing;
S3-3. Remote sensing of land-use and land-cover change;
S3-4. Remote sensing of snow and ice;
S3-5. Remote sensing of precipitation;
S3-6. Aerosol remote sensing;
S3-7. Cloud remote sensing;
S3-8 Remote sensing of atmospheric trace gases.
All accepted abstracts will be published on the website of the conference. You are required to submit an abstract (250–500 word limit). Please see the abstract guidelines at "Instructions for Authors".
After the conference, there will be a possibility to submit selected papers to the related journal Remote Sensing (Impact Factor (2021): 5.349; 5-Year Impact Factor (2021): 5.786; Top Open Access Journal in Remote Sensing) with a 20% discount on the APCs.
On behalf of the Organizing Committee, we invite you to join us at the 5th International Electronic Conference on "Advances in experimental and theoretical studies of terrestrial atmosphere and underlying surface".
Dr. Alexander Kokhanovsky
Chair of the 5th International Electronic Conference on Remote Sensing
German Research Centre for Geosciences, Potsdam, Germany
Remote Sensing announces selected third-party conferences. In case you would like to announce your own event on the Remote Sensing website, please fill out the following form to apply for the announcement of a conference or other academic event (seminar, workshop).
Upcoming Partner Conferences (3)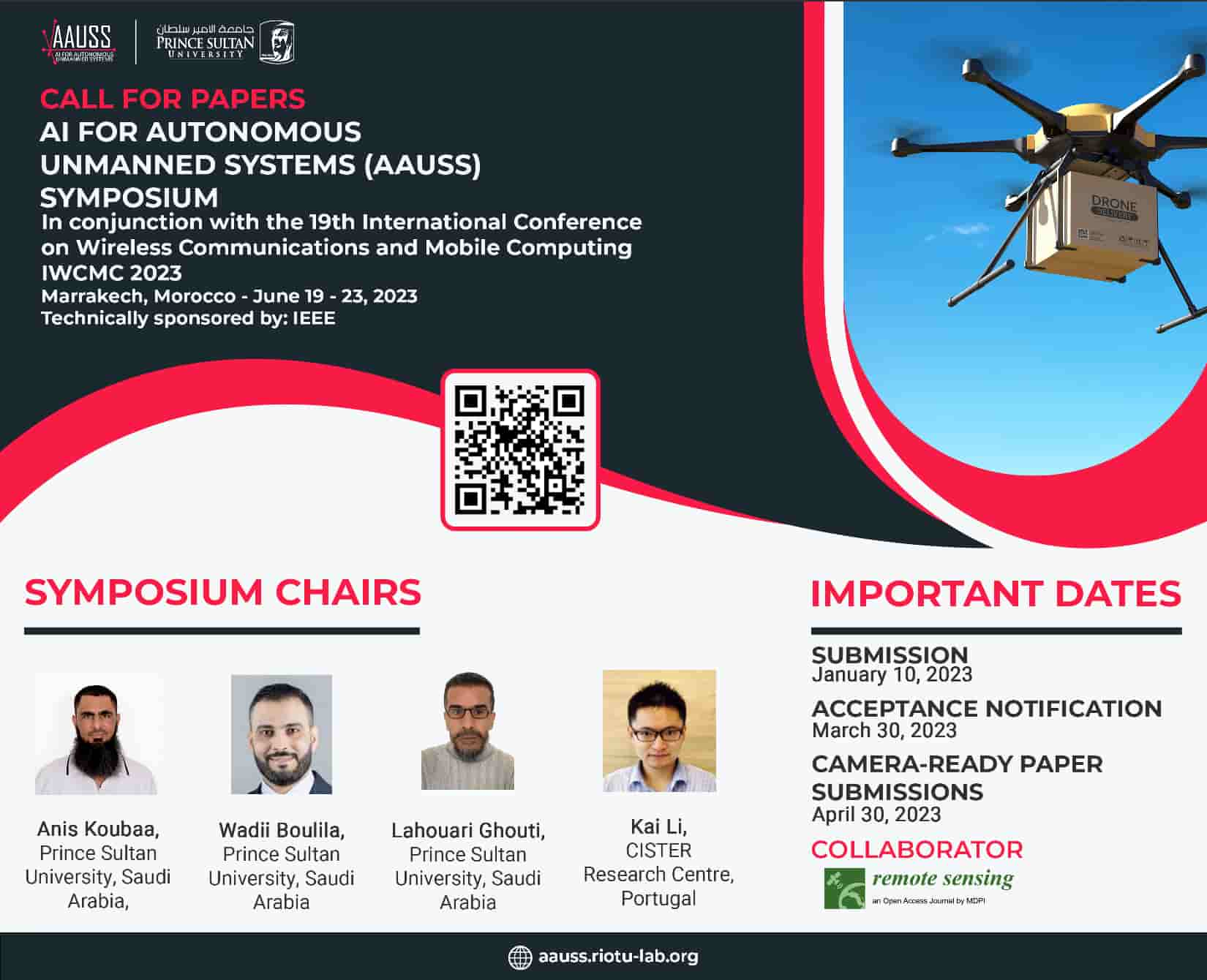 19–23 June 2023
AI for Autonomous Unmanned Systems 2023
Marrakech, Morocco
This Symposium aims to bring together state-of-the-art contributions that will address several challenges pertaining to the use of AI with Unmanned Autonomous Systems. The Symposium welcomes technical papers, in addition to papers reporting experimental prototypes and studies on the use of AI with Unmanned Autonomous Systems. Survey papers can also be accepted if they provide a comprehensive review and analysis of the state of the art.
Authors are invited to submit previously unpublished papers to this Symposium. Topics include, but are not limited to:
Cloud robotics for AI applications;
Reinforcement learning;
Self-driving cars;
Deep learning models for aerial image processing;
Attention modules for UAS-based AI models;
AI-model acceleration for UAS edge processing;
Deep learning security threats for UAS applications;
AI-based models for UAS safety;
Computation offloading;
AI-based Smart Cities with UAS;
AI-based surveillance systems;
Smart Agriculture;
Computer Vision for UASs.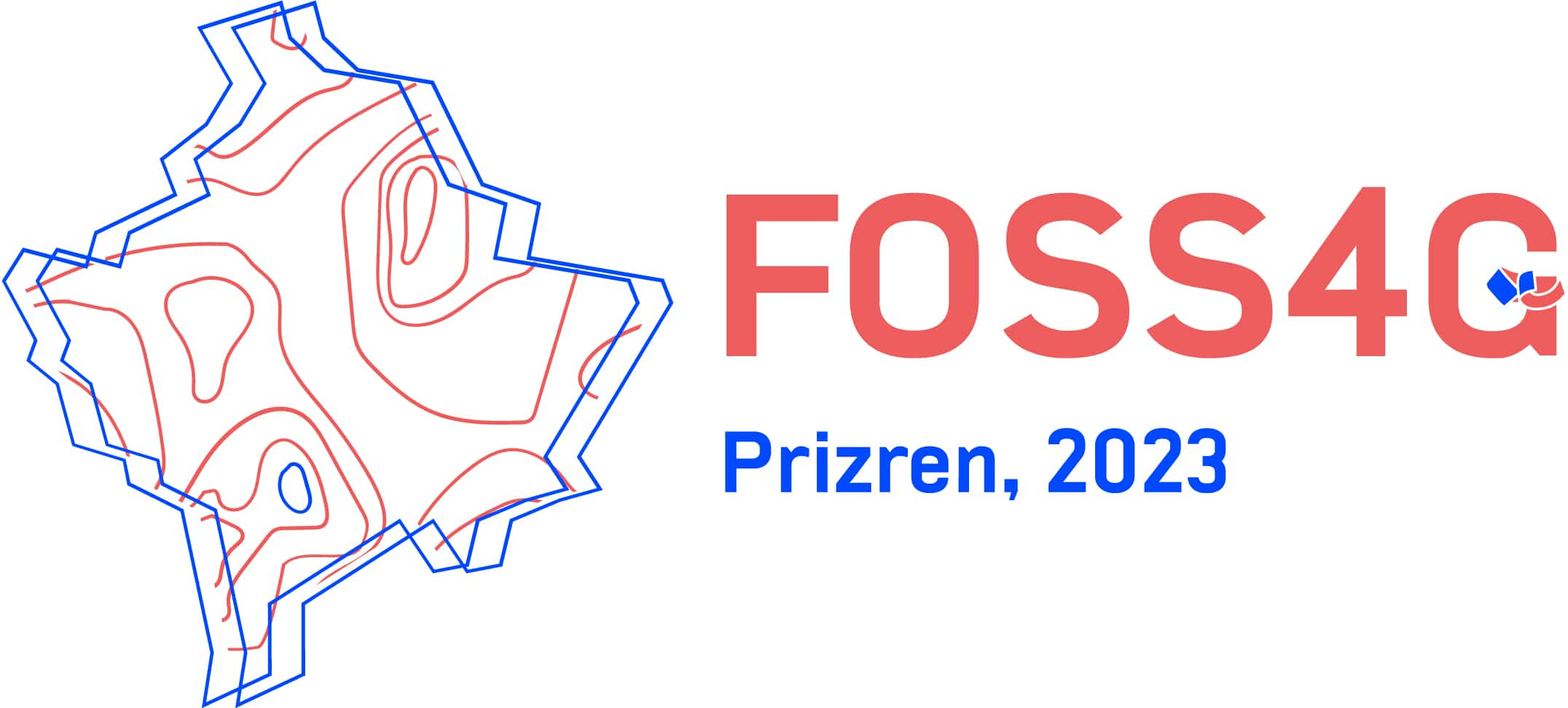 26 June–2 July 2023
Free and Open Source Software for Geospatial 2023
Prizren, Kosovo
Get ready to mark your calendars because FOSS4G 2023 is the ultimate destination for geo enthusiasts! This annual international gathering of location enthusiasts is the largest global conference for geospatial software. Hosted by OSGeo and with over 15 years of experience, FOSS4G brings together developers, users, decision-makers, and observers from a broad spectrum of organizations and fields of operation.
Join us in PRIZREN, Kosovo from June 26th to July 2nd, 2023 for a week filled with workshops, presentations, discussions, and cooperation as we work together to create innovative and impactful geospatial products, standards, and protocols. Don't miss out on this exciting opportunity to connect, learn, and grow within the geospatial community!
Here you can find our conference logos:
https://2023.foss4g.org/about/branding/

11–13 September 2023
VII INTERNATIONAL SCIENTIFIC AND PRACTICAL CONFERENCE «INFORMATION TECHNOLOGIES AND HIGH-PERFOMANCE COMPUTING»
Khabarovsk, Russia
From September 11 to 13, 2023, the VII International Scientific and Practical Conference, "Information Technologies and High-Performance Computing" (ITHPC-2023), will be held in Khabarovsk by the Computing Center of the Far Eastern Branch of the Russian Academy of Sciences. It is timed to coincide with the Decade of Science and Technology announced in Russia and the upcoming 300th anniversary of the Russian Academy of Sciences.
The purpose of the conference is to exchange the results of fundamental and applied research in the field of information technology and high-performance computing, as well as experiences in its use in the interests of science, education and industry.
The main directions of the conference:
Methods and algorithms of mathematical modeling using high-performance computing systems;
Distributed information systems, grid technologies and cloud computing;
Information and computing technologies for research and the monitoring of natural and technical systems.
Special events planned for the conference days:
Special section on "methods and technologies of remote sensing in the study of natural and technical systems";
Seminar on the use of new information technologies, software and computer systems in solving current scientific and technical problems;
Roundtable discussion dedicated to the development of a network of scientific supercomputer centers for collective use.
Additional information:
The working conference languages are Russian and English;
The conference will be held in a hybrid form (more information will be provided later);
Travel and hotel accommodation costs will be paid by the conference participant independently;
There is no registration fee.