N-Aryl Amino Acids as Potential Antibacterial Agents
Abstract
The resistance of bacteria to current antibiotic drugs and the re-occurrence of different ailments after several therapeutic protocols continue to be a cause for concern. Arylated amino acids are vital synthons to many compounds; they serve as essential building blocks in the synthesis
[...] Read more.
The resistance of bacteria to current antibiotic drugs and the re-occurrence of different ailments after several therapeutic protocols continue to be a cause for concern. Arylated amino acids are vital synthons to many compounds; they serve as essential building blocks in the synthesis of nitrogen heterocycles with various biological activities. This research reports on the synthesis of some
N
-aryl amino acids and evaluates their antibacterial activities. The
N
-aryl amino acids
3a
–
3j
were obtained by reacting different 4-substituted fluorobenzene
1a
–
1d
with different amino acids
2a
–
2g
via a metal-free base-induced aryl amination reaction of aryl halides. The antibacterial activities of the synthesized compounds were evaluated against eight bacterial strains (Four
Gram-positive
,
Bacillus subtilis
(ATCC 6633),
Streptococcus pneumonia
(ATCC 33400),
Staphylococcus aureus
(ATCC 25923), and
Staphylococcus epidermidis
(ATCC 14990), and four
Gram-negative
,
Enterobacter cloacae
(ATCC 43560),
Escherichia coli
(ATCC 25922),
Proteus mirabilis
(ATCC 43071), and
Klebsiella oxytoca
(ATCC 13182) using the agar well diffusion method with streptomycin as a reference drug. The biological screening indicates that the synthesized compounds
3a
,
3e,
and
3j
have promising broad-spectrum antibacterial potential, as the
N
-aryl amino acid displayed activity that was comparable to the standard drug against
Streptococcus pneumonia
,
Escherichia coli
, and
Proteus mirabilis
.
Full article
►

▼

Show Figures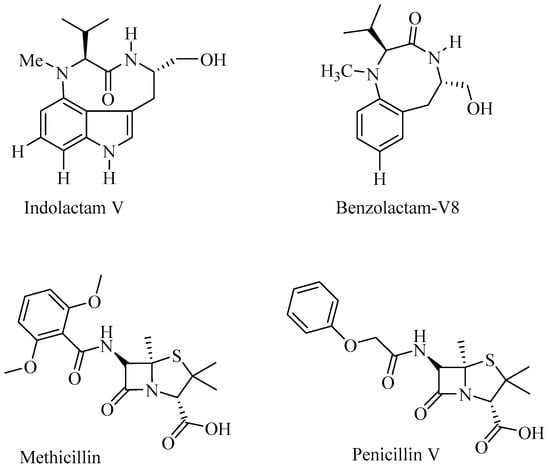 Figure 1