MWCNT-Coated Glass Fabric/Phenol Composite Heating Panel Fabricated by Resin Infusion Process
Viewed by 383
Abstract
MWCNTs (multiwalled carbon nanotubes) were applied to fiber-reinforced composite materials with phenolic resin having flame retardance for the composite heating panels of railroad vehicles. Instead of dispersing MWCNTs in the matrix, the surface of a pristine plain-weave glass fiber fabric was coated with
[...] Read more.
MWCNTs (multiwalled carbon nanotubes) were applied to fiber-reinforced composite materials with phenolic resin having flame retardance for the composite heating panels of railroad vehicles. Instead of dispersing MWCNTs in the matrix, the surface of a pristine plain-weave glass fiber fabric was coated with MWCNTs through a series of dip-coating and drying processes, followed by the resin infusion of the phenolic resin to make the composite heating panel. Before and after the resin infusion process, low percolation thresholds of 0.00216 wt%
MWCNT
(weight percent of MWCNTs) and 0.001 wt%
MWCNT
, respectively, were achieved, as were very high electrical conductivities of 47.5 S/m at 0.210 wt%
MWCNT
and 26.7 S/m at 0.116 wt%, respectively. The low threshold and high conductivity can be attributed to the formation of electrical pathways directly onto the glass fabrics. It was confirmed that mechanical properties such as modulus, strength, and maximum strain were at the same level as those of the pristine glass fabric composite. The heating performance with temperature uniformity, as well as the electrical and mechanical properties, indicates that the resin-infused glass fabric composite having MWCNTs directly coated onto the fabric surface can be a solution for lightweight structural composite heating panels for railway vehicles.
Full article
►

▼

Show Figures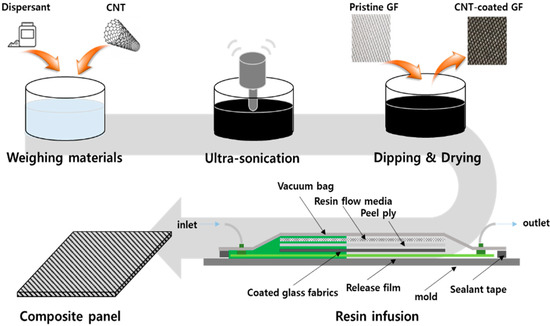 Figure 1