Synthesis and Characterization of Schiff Base Polymers via Metal Coordination and Its Application in Infrared Stealth Coating
Cited by 2
| Viewed by 1383
Abstract
In order to reduce the infrared emissivity to meet the requirements of modern warfare for infrared stealth materials, we prepared the polymers containing Schiff base moieties using polyetheramine and 2,6-pyridinedicarboxaldehyde by solution polycondensation and coordinated with Ni
2+
, Cu
2+
, and
[...] Read more.
In order to reduce the infrared emissivity to meet the requirements of modern warfare for infrared stealth materials, we prepared the polymers containing Schiff base moieties using polyetheramine and 2,6-pyridinedicarboxaldehyde by solution polycondensation and coordinated with Ni
2+
, Cu
2+
, and Sm
3+
ions to prepare organic coatings. The structure and the thermal and mechanical properties of the coatings were studied in detail. Meanwhile, the effect of the conductivity change of coordination polymers on infrared emissivity was studied systematically. The results showed the polymer coordinated with Sm
3+
ions had the lowest energy band gap, which was 2.99 eV, and the best electrical conductivity of 3.54 × 10
−4
S/cm compared with Ni
2+
and Cu
2+
coordination polymers. The infrared emissivity was the lowest in the 2–22 μm infrared waveband range, which reached 0.58, suggesting the polymers containing Schiff base moieties and their coordination polymers may have a great potential to be applied as infrared stealth materials in military applications.
Full article
►

▼

Show Figures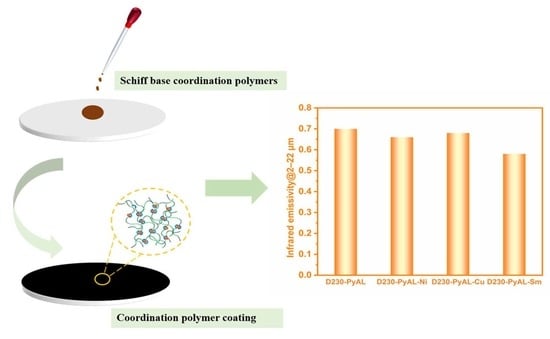 Graphical abstract