Phytochemical Profile and In Vitro Bioactivities of Plant-Based By-Products in View of a Potential Reuse and Valorization
Cited by 1
| Viewed by 723
Abstract
Wastes and by-products of plant origin are of particular interest to develop a circular economy approach, which attempts to turn them into resources. In this work, thirty-seven neglected plant matrices, including agricultural residues, pest plants, and by-products from the herbal and food industry
[...] Read more.
Wastes and by-products of plant origin are of particular interest to develop a circular economy approach, which attempts to turn them into resources. In this work, thirty-seven neglected plant matrices, including agricultural residues, pest plants, and by-products from the herbal and food industry were extracted and tested for their in vitro anti-tyrosinase, antioxidant, and antibacterial activity against the phytopathogens
Pseudomonas syringae
pv.
syringae
ATCC 19310 and
Clavibacter michiganensis
subsp.
nebraskense
ATCC 27822. Antioxidant activity ranged from 0.3 to 5 mg of Tr. eq/mL of plant extract, and extract of
Castanea sativa
pericarp (Csp),
Rosa damascena
buds (post-distillation) (Rod), and
Prunus amygdalus
exocarp and mesocarp (Pam) were the most powerful ones. Csp was also capable of inhibiting tyrosinase (IC
50
= 16.5 µg/mL), as well as three distillation by-products, namely:
Cupressus sempervirens
(Css) (IC
50
= 95.5 µg/mL),
Salvia officinalis
(Sco) (IC
50
= 87.6 µg/mL), and
Helichrysum italicum
(Hei) (IC
50
= 90.1 µg/mL). Five residues from distillation showed antibacterial activity against
C. michiganensis
(MICs ranging from 0.125 to 1 mg/mL), namely:
Salvia sclarea
L. (Sas),
Salvia rosmarinus
Schleid (Sar), Sco, Hei, and Css. The
1
H NMR fingerprinting of the bioactive matrices was acquired, detecting primary and secondary metabolites (rosmarinic acid, shikimic acid, sclareol, and hydroxycinnamic acids).
Full article
►

▼

Show Figures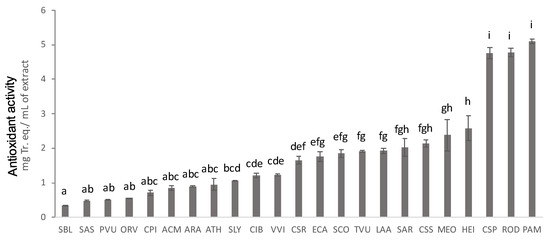 Figure 1