Chemical Constituents, Enantiomer Content, Antioxidant and Anticholinesterase Activities of Valeriana microphylla Kunth Essential Oil
Viewed by 158
Abstract
The study of the essential oil (EO) from aerial parts (stems and leaves) of
Valeriana microphylla
Kunth (Valerianaceae), collected from the Saraguro community in the southern region of Ecuador, was analyzed for the first time. A total of 62 compounds were identified in
[...] Read more.
The study of the essential oil (EO) from aerial parts (stems and leaves) of
Valeriana microphylla
Kunth (Valerianaceae), collected from the Saraguro community in the southern region of Ecuador, was analyzed for the first time. A total of 62 compounds were identified in
V. microphylla
EO by GC-FID and GC-MS on nonpolar DB-5ms and polar HP-INNOWax columns. The most abundant components (>5%) detected on DB-5ms and polar HP-INNOWax columns were
α
-gurjunene (11.98, 12.74%), germacrene D (11.47, 14.93%),
E
-caryophyllene (7.05, 7.78%), and
α
-copaene (6.76, 6.91%), respectively. In addition, the enantioselective analysis, carried out on a chiral column, showed (+)-α-pinene and (R)-(+)-germacrene as enantiomerically pure compounds (enantiomeric excess = 100%). The antioxidant activity was high for the radicals ABTS (SC50 = 41.82 µg/mL) and DPPH (SC50 = 89.60 µg/mL), and finally, the EO was shown to be inactive to the enzyme acetylcholinesterase (AChE) and butyrylcholinesterase (BuChE), as both values were >250 µg/mL.
Full article
►

▼

Show Figures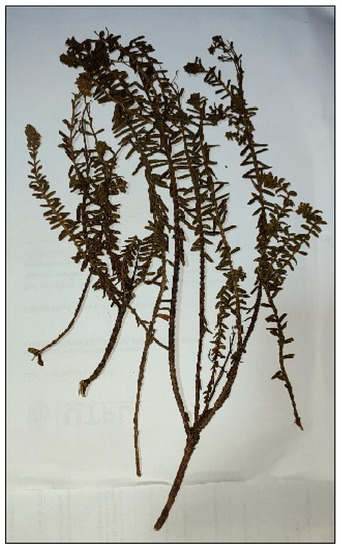 Figure 1