Efficacy of the Vaccine Candidate Based on the P0 Peptide against Dermacentor nitens and Ixodes ricinus Ticks
Viewed by 541
Abstract
The control of ticks through vaccination offers a sustainable alternative to the use of chemicals that cause contamination and the selection of resistant tick strains. However, only a limited number of anti-tick vaccines have reached commercial realization. In this sense, an antigen effective
[...] Read more.
The control of ticks through vaccination offers a sustainable alternative to the use of chemicals that cause contamination and the selection of resistant tick strains. However, only a limited number of anti-tick vaccines have reached commercial realization. In this sense, an antigen effective against different tick species is a desirable target for developing such vaccines. A peptide derived from the tick P0 protein (pP0) conjugated to a carrier protein has been demonstrated to be effective against the
Rhipicephalus microplus, Rhipicephalus sanguineus
, and
Amblyomma mixtum
tick species. The aim of this work was to assess the efficacy of this peptide when conjugated to the Bm86 protein against
Dermacentor nitens
and
Ixodes ricinus
ticks. An RNAi experiment using P0 dsRNA from
I. ricinus
showed a dramatic reduction in the feeding of injected female ticks on guinea pigs. In the follow-up vaccination experiments, rabbits were immunized with the pP0-Bm86 conjugate and challenged simultaneously with larvae, nymphs, and the adults of
I. ricinus
ticks. In the same way, horses were immunized with the pP0-Bm86 conjugate and challenged with
D. nitens
larva. The pP0-Bm86 conjugate showed efficacies of 63% and 55% against
I. ricinus
and
D. nitens
ticks, respectively. These results, combined with previous reports of efficacy for this conjugate, show the promising potential for its development as a broad-spectrum anti-tick vaccine.
Full article
►

▼

Show Figures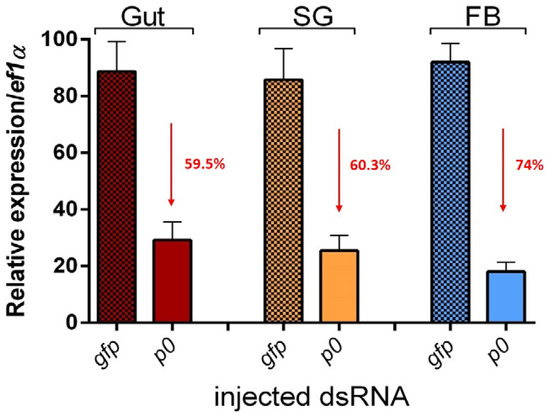 Figure 1