A Microwell Device for the Efficient Generation of Arrays of Microtissues and Humanized Bone Marrow Micro-Ossicles
Abstract
(1) Background: There are no high-throughput microtissue platforms for generating bone marrow micro-ossicles. Herein, we describe a method for the assembly of arrays of microtissues from bone marrow stromal cells (BMSC) in vitro and their maturation into bone marrow micro-ossicles in vivo. (2)
[...] Read more.
(1) Background: There are no high-throughput microtissue platforms for generating bone marrow micro-ossicles. Herein, we describe a method for the assembly of arrays of microtissues from bone marrow stromal cells (BMSC) in vitro and their maturation into bone marrow micro-ossicles in vivo. (2) Methods: Discs with arrays of 50 microwells were used to assemble microtissues from 3 × 10
5
BMSCs each on a nylon mesh carrier. Microtissues were cultured in chondrogenic induction medium followed by hypertrophic medium in an attempt to drive endochondral ossification, and then they were implanted in NOD.Cg-Prkdcscid Il2rgtm1Wjl/SzJ (NSG) mice, where they were remodeled into bone marrow micro-ossicles. Mice were transplanted with 10
5
human umbilical cord blood CD34
+
cells. (3) Results: Micro-ossicles contained more human CD45
+
cells, but fewer human CD34
+
progenitor cells than mouse marrow. Human hematopoietic progenitor cells cycle rapidly at non-physiological rates in mouse marrow, and reduced CD34
+
cell content in micro-ossicles is consistent with the notion that the humanized niche better controls progenitor cell cycling. (4) Conclusions: Assembling microtissues in microwells, linked by a nylon membrane carrier, provides an elegant method to manufacture and handle arrays of microtissues with bone organ-like properties. More generally, this approach and platform could aid bridging the gap between in vitro microtissue manipulation and in vivo microtissue implantation.
Full article
►

▼

Show Figures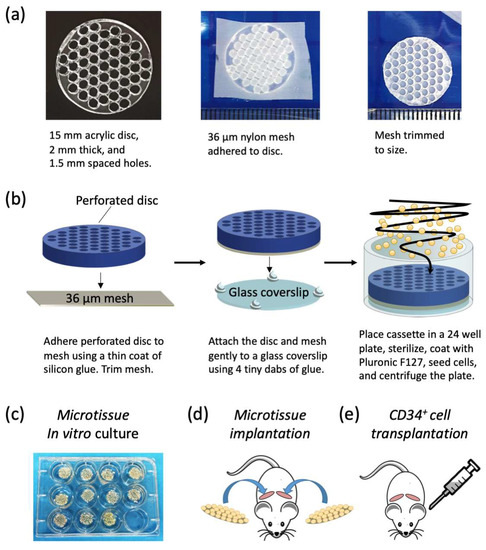 Figure 1