Journal Browser
►

▼

Journal Browser
Conferences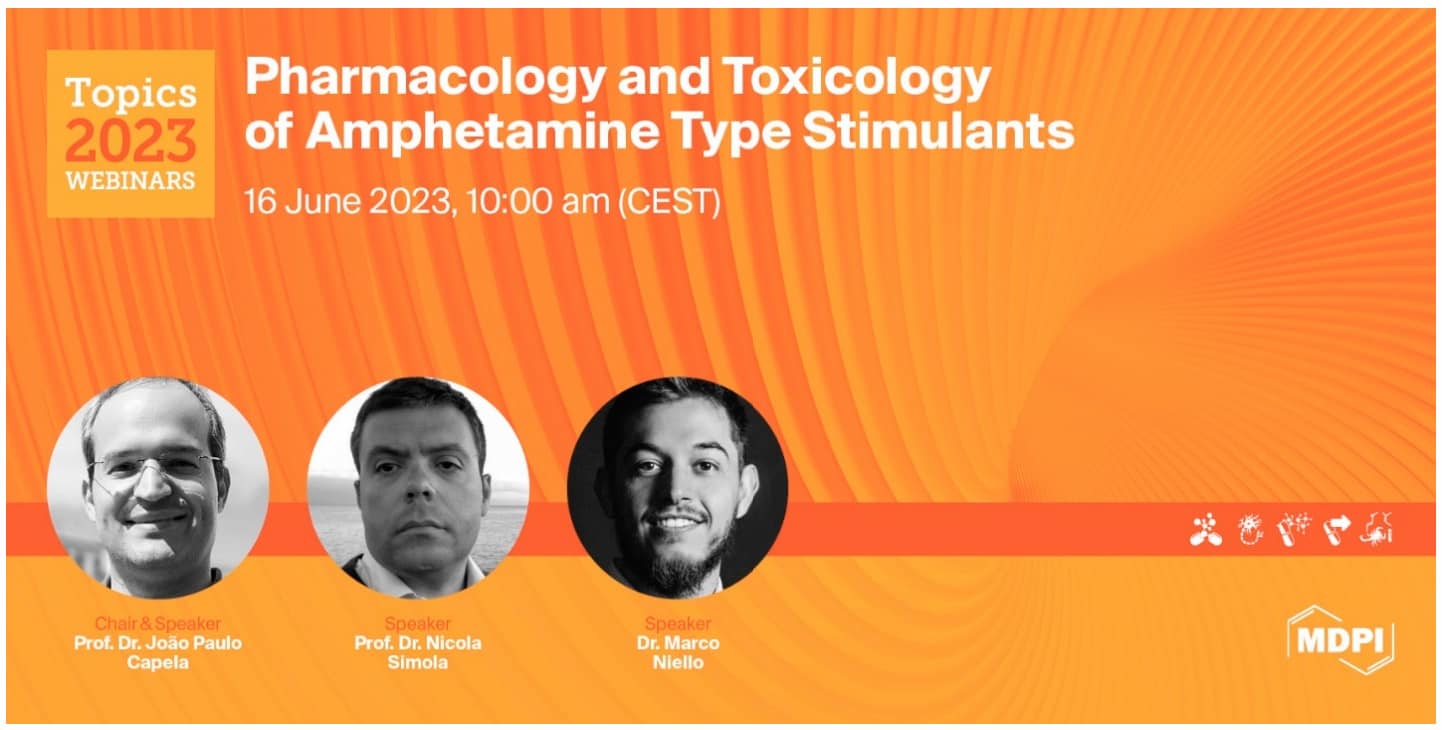 Amphetamine-type stimulants are worldwide-known drugs of abuse. According to the United Nations World Drug Report of 2021, there were an estimated 27 million past-year users of amphetamines in 2019, including amphetamine (AMPH) and methamphetamine (METH), corresponding to 0.5 percent of the global population aged 15–64. Additionally, nearly 20 million people globally are estimated to have used "ecstasy" (3,4-methylenodiaximethamphetamine or MDMA) in the past year, corresponding to 0.4 per cent of the global population aged 15–64.
These drugs target the brain to stimulate the release of monoamine neurotransmitters, promoting the central effects quested by drug users. Simultaneously, these drugs have been associated with neurotoxicity and cardiovascular toxicity, as well as and hepatic and renal toxicity, either acutely or chronically.
Notwithstanding, amphetamines have been and are still used therapeutically, and nowadays, new drug repurposing is being attempted for several brain disorders. D-amphetamine (AMPH) and D, L-threo-methylphenidate (MPH) psychostimulants are first-line pharmacotherapies for attention-deficit/hyperactivity disorder (ADHD). Additionally, MDMA-assisted psychotherapy is being studied for the treatment of post-traumatic stress disorder (PTSD).
In this webinar, we will be covering the mechanism of action of amphetamines, in particular the ability to promote serotonin release. In addition, the neurotoxicity of amphetamines will be detailed by showing that "ecstasy" is neurotoxic in laboratory animals. Finally, laboratory studies conducted in neuronal cells and animals on "ecstasy", amphetamine, and methylphenidate, which are used therapeutically, will be approached to highlight the importance of preclinical studies.
Date: 10 a.m. CEST | 4:00 a.m. EDT | 3:00 a.m. CDT Asia
Webinar ID: 841 0760 9082
Register now for free!
Speaker/Presentation

Time in CEST

Time in EDT

Prof. Dr. João Paulo Capela
Chair Introduction

10:00–10:10 a.m.

4:00–4:10 a.m.

Prof. Dr. Nicola Simola
Influence of the Administration Setting, Age and Sex on the Neuroinflammatory and Neurotoxic Effects of MDMA

10:10–10:40 a.m.

4:10–4:40 a.m.

Q&A Session

10:40–10:50 a.m.

4:40–4:50 a.m.

Dr. Marco Niello
SERT Releasing Agents: Making Use of Enantioselective Pharmacology

10:50–11:20 a.m.

4:50–5:20 a.m.

Q&A Session

11:20–11:30 a.m.

5:20–5:30 a.m.

Prof. Dr. João Paulo Capela
Cell culture and Animal Studies regarding "Ecstasy", Amphetamine and Methylphenidate Toxicity

11:30 a.m.–12:00 p.m.

5:30– 6:00 a.m.

Q&A Session

12:00–12:10 p.m.

6:00–6:10 a.m.

Prof. Dr. João Paulo Capela
Closing of Webinar

12:10–12:15 p.m.

6:10–6:15 a.m.
After registering, you will receive a confirmation email containing information on how to join the webinar. Registrations with academic institutional email addresses will be prioritized.
Unable to attend? Register anyway and we'll let you know when the recording is available to watch.
Webinar Chair and Keynote Speakers:
Dr. João Paulo Capela, Faculty of Health Sciences, University Fernando Pessoa, Porto, Portugal;
Dr. Nicola Simola, University of Cagliari, Monserrato, Italy;
Marco Niello, Institute of Pharmacology, Center for Physiology and Pharmacology, Medical University of Vienna, Vienna, Austria.
Relevant Topic:
"Pharmacology and Toxicology of Amphetamine Type Stimulants"
https://us02web.zoom.us/webinar/register/2816838629540/WN_jxFSCV0BQdeT2qkLqD1OcQ