Development and Characterization of Na2CO3-Activated Mozambican Bentonite: Prediction of Optimal Activation Conditions Using Statistical Design Modeling
Cited by 2
| Viewed by 873
Abstract
A calcium bentonite clay from Boane region (Mozambique) was subjected to an Na
2
CO
3
activation process. The methylene blue test together with energy-dispersive X-ray spectroscopy (EDX) analysis indicated the successful ion exchange of Ca
2+
by Na
+
ions since the
[...] Read more.
A calcium bentonite clay from Boane region (Mozambique) was subjected to an Na
2
CO
3
activation process. The methylene blue test together with energy-dispersive X-ray spectroscopy (EDX) analysis indicated the successful ion exchange of Ca
2+
by Na
+
ions since the cation exchange capacity (CEC) increased from 67.5 to 74 meq/100 g and the Na/Ca ratio from 2.91 up to 15.8, as the concentration of Na
2
CO
3
, activation temperature, and activation time were varied from 2 to 6 wt.%, from 25 to 65 °C, and from 2 to 4 h, respectively. However, the increase in the CEC did not follow the same trend as the increase in the Na/Ca ratio, and for the case of Na
2
CO
3
concentration, the increase in the CEC was limited. The X-ray diffraction (XRD) patterns also confirmed that Ca-rich bentonite was effectively modified into Na-bentonite since after the activation, the d(001) decreased from 1.52 nm to 1.30 nm. The statistical design of the experiments showed that as well as the time and the temperature × time linear interactive effect, all the other independent factors and their interactive effects had a significant influence on the CEC. The response surface methodology (RSM) indicated that higher values of the CEC can be obtained under the optimal activation conditions of 4 wt.% Na
2
CO
3
, at a temperature of 45 °C, and with an activation time of 3 h. A statistical model was used to predict the CEC, and the R
2
value was 0.99529, which denotes a satisfactory result in predicting the CEC.
Full article
►

▼

Show Figures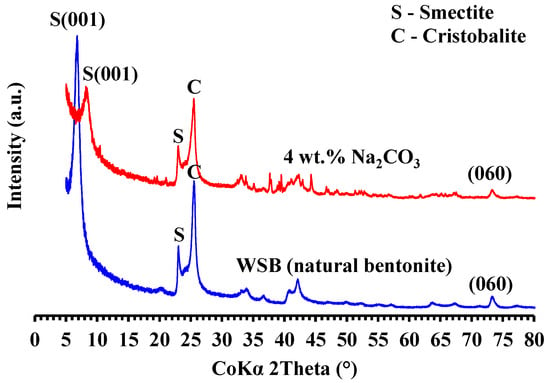 Figure 1