Conferences
Upcoming MDPI Conferences (2)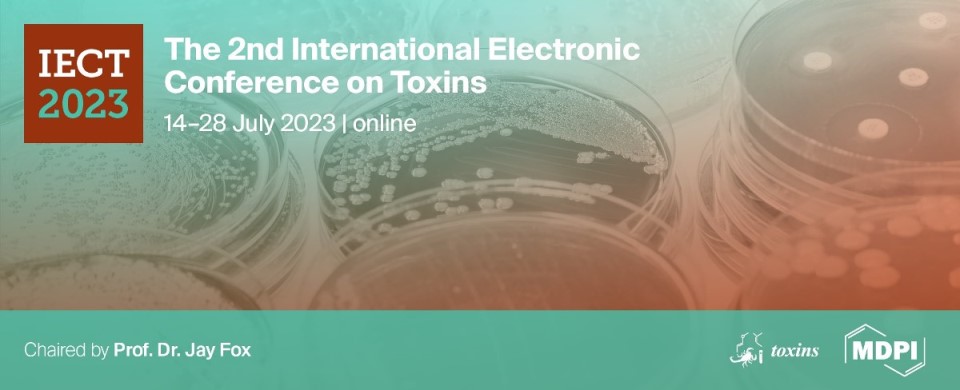 14–28 July 2023
The 2nd International Electronic Conference on Toxins
Online
We are particularly excited this year to announce the 2nd International Electronic Conference on Toxins (IECT2023). The reason for this is that the meeting will serve to inaugurate an additional scientific domain, Toxinology, for our journal Toxins (ISSN: 2072-6651; Impact Factor: 5.075). The meeting will be hosted online at https://iect2023.sciforum.net/ from 14 to 28 July 2023.
Topics for IECT2023 are organized into six sessions:
S1. Novel plant, animal, insect and microbial toxins.
S2. Mechanism of action and/or pathophysiology of toxins.
S3. Use of toxins as tools for research, drug discovery, and therapeutics.
S4. Impact of toxins on public health.
S5. Impact of toxins on agriculture.
S6. Evolution of toxins.
Within each topic of particular interest will be those at the interface of toxicology and toxinology.
IECT2023 offers you the opportunity to participate in this international, scholarly conference without any concerns of expenditures regarding travel—all you need is your computer and access to the Internet. We would like to invite you to "attend" this conference by presenting your latest work. There is no registration fee. Abstracts (in English) should be submitted online before 7 April 2023.
We look forward to your participation in this exciting event.
Sincerely,
Professor Jay W. Fox,
Chair of the 2nd International Electronic Conference on Toxins
University of Virginia School of Medicine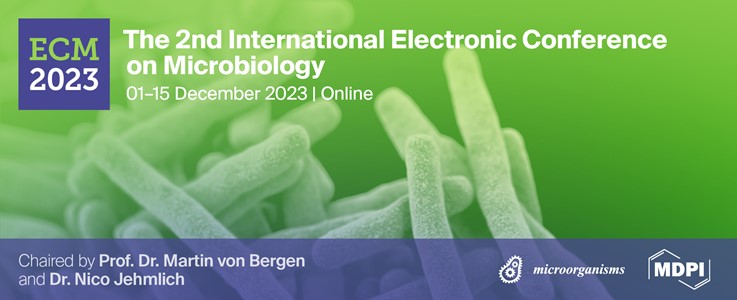 1–15 December 2023
The 2nd International Electronic Conference on Microbiology
Online
We are pleased to announce and invite you to join the 2nd International Electronic Conference on Microbiology (ECM 2023) that is hosted online by: ECM2023.sciforum.net. Participation is free of charge for both authors and attendees.
ECM 2023 will present the latest research related to microorganisms.
Topics of interest include but are not limited to:
S1. Gut Microbiota and Health Disease
S2. Foodborne Pathogens and Food Safety
S3. Antimicrobial Agents and Resistance
S4. Emerging Infectious Diseases
S5. Microbiome and Soil Science
S6. Microbial Characterization and Bioprocess
S7. Microbe–Plant Interactions
Important Dates:
Abstract Submission: 30th June 2023
Acceptance Notification: 20th July 2023
Full Paper Submission: 10 September 2023
Final Paper Notification: 20 September 2023
All submitted abstracts will be evaluated by the conference committee. Upon acceptance of their abstract, authors will contribute an extended abstract for the conference proceedings and a slide presentation of their work. The authors of the most outstanding contributions will be invited to submit a full manuscript for potential publication in the Special Issue "ECM 2023" in the journal Microorganisms (Impact Factor 4.926) (submission to the journal is independent of the conference proceedings and will follow the usual process of the journal, including peer review, APC, etc.).
We look forward to your participation in this exciting event.
To find out more about the conference, please visit the following link:
Microorganisms announces selected third-party conferences. In case you would like to announce your own event on the Microorganisms website, please fill out the following form to apply for the announcement of a conference or other academic event (seminar, workshop).
Upcoming Partner Conferences (8)