On the Fate of Butyl Methoxydibenzoylmethane (Avobenzone) in Coral Tissue and Its Effect on Coral Metabolome
Viewed by 1259
Abstract
The intensive use of sunscreen products has raised concerns regarding their environmental toxicity and the adverse impacts of ultraviolet (UV) filters on ecologically important coral communities. Prior metabolomic analyses on symbiotic coral
Pocillopora damicornis
exposed to the UV filter butyl methoxydibenzoylmethane (BM, avobenzone)
[...] Read more.
The intensive use of sunscreen products has raised concerns regarding their environmental toxicity and the adverse impacts of ultraviolet (UV) filters on ecologically important coral communities. Prior metabolomic analyses on symbiotic coral
Pocillopora damicornis
exposed to the UV filter butyl methoxydibenzoylmethane (BM, avobenzone) revealed unidentified ions in the holobiont metabolome. In the present study, follow-up differential metabolomic analyses in BM-exposed
P. damicornis
detected 57 ions with significantly different relative concentrations in exposed corals. The results showed an accumulation of 17 BM derivatives produced through BM reduction and esterification. The major derivative identified C16:0-dihydroBM, which was synthesized and used as a standard to quantify BM derivatives in coral extracts. The results indicated that relative amounts of BM derivatives made up to 95% of the total BM (
w
/
w
) absorbed in coral tissue after 7 days of exposure. Among the remaining metabolites annotated, seven compounds significantly affected by BM exposure could be attributed to the coral dinoflagellate symbiont, indicating that BM exposure might impair the photosynthetic capacity of the holobiont. The present results suggest that the potential role of BM in coral bleaching in anthropogenic areas should be investigated and that BM derivatives should be considered in future assessments on the fate and effects of BM in the environment.
Full article
►

▼

Show Figures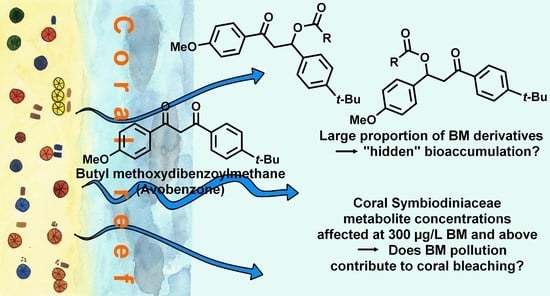 Graphical abstract