Conferences
Upcoming MDPI Conferences (1)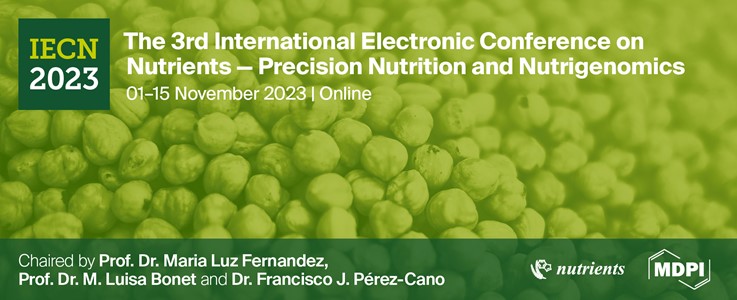 1–15 November 2023
The 3rd International Electronic Conference on Nutrients - Precision Nutrition and Nutrigenomics
Online
We are pleased to announce the Third Electronic Conference sponsored by Nutrients. The focus of this conference will be on Precision Nutrition and Nutrigenomics. Precision Nutrition, a novel individualized approach, considers the genetic and epigenetic information as well as age, gender, lifestyle, gut microbiota, and health status conditions to design the best dietary approaches for an individual in order to achieve optimal health and ageing, disease prevention and improved exercise performance. This conference will provide updated information and novel findings on the role of epigenetics, genetic polymorphisms and the microbiota in Precision Nutrition as well as the use of "omics" as necessary tools to discover unsuspected interactions and interpret the information.
Participants will have the opportunity to examine, explore and actively participate in current issues and advances in these areas. We hope to facilitate discussions and exchanges within the community. This event will solely be an online proceeding that allows participation from all over the world with no concerns about travel and related expenditures. This type of conference is particularly appropriate and useful because of the discussion on new findings on Precision Nutrition and Nutrigenomics . An electronic conference provides a platform for rapid and direct exchanges about the latest research findings and novel ideas. The participation in, as well as the "attendance" of, this online conference is free of charge.
We hope the community will share this enthusiasm and help to make this first edition a success—for many to come in the future.
Conference link:
Metabolites announces selected third-party conferences. In case you would like to announce your own event on the Metabolites website, please fill out the following form to apply for the announcement of a conference or other academic event (seminar, workshop).
Upcoming Partner Conferences (2)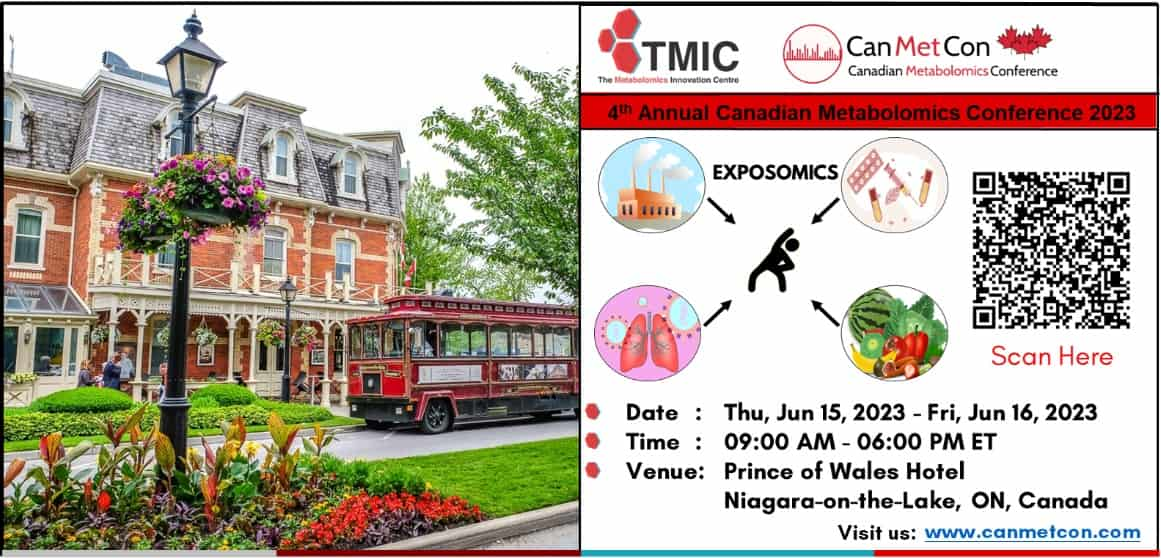 15–16 June 2023
The 4th Annual Canadian Metabolomics Conference (CanMetCon) 2023
Niagara-on-the-Lake, ON, Canada
Exposomics is a rapidly growing and important field that explores the impact of environmental exposures on human health. As such, it is a theme that attracts interest and has the potential to bring together international experts from a variety of fields to share their latest findings and insights on the role of exposomics at the 4th Annual Canadian Metabolomics Conference (CanMetCon) 2023.
Date: 15th - 16th June, 2023
Venue: Prince of Wales Hotel in Niagara-on-the-Lake
Registration: $150 CAD/student and $250 CAD/general
Theme: Exposomics in
Medicine;
Agriculture/Food/Cannabis;
Environment/Industrial Settings;
Clinical Applications.
We look forward to welcoming you to the scenic Niagara-on-the-Lake for an exciting and informative conference that will showcase the latest advances and practical applications in exposomics and metabolomics research. The abstract submission deadline is May 31. In addition to our featured speakers, this conference will host selected speakers among our registrants, though many talk spots are still available. For more information about our conference, please visit our website: canmetcon.com.
https://app.groupize.com/organizations/university-of-alberta-5ee56bd5-25a5-4b48-b9d5-4f1171a9c70f/events/tmic-conference-2023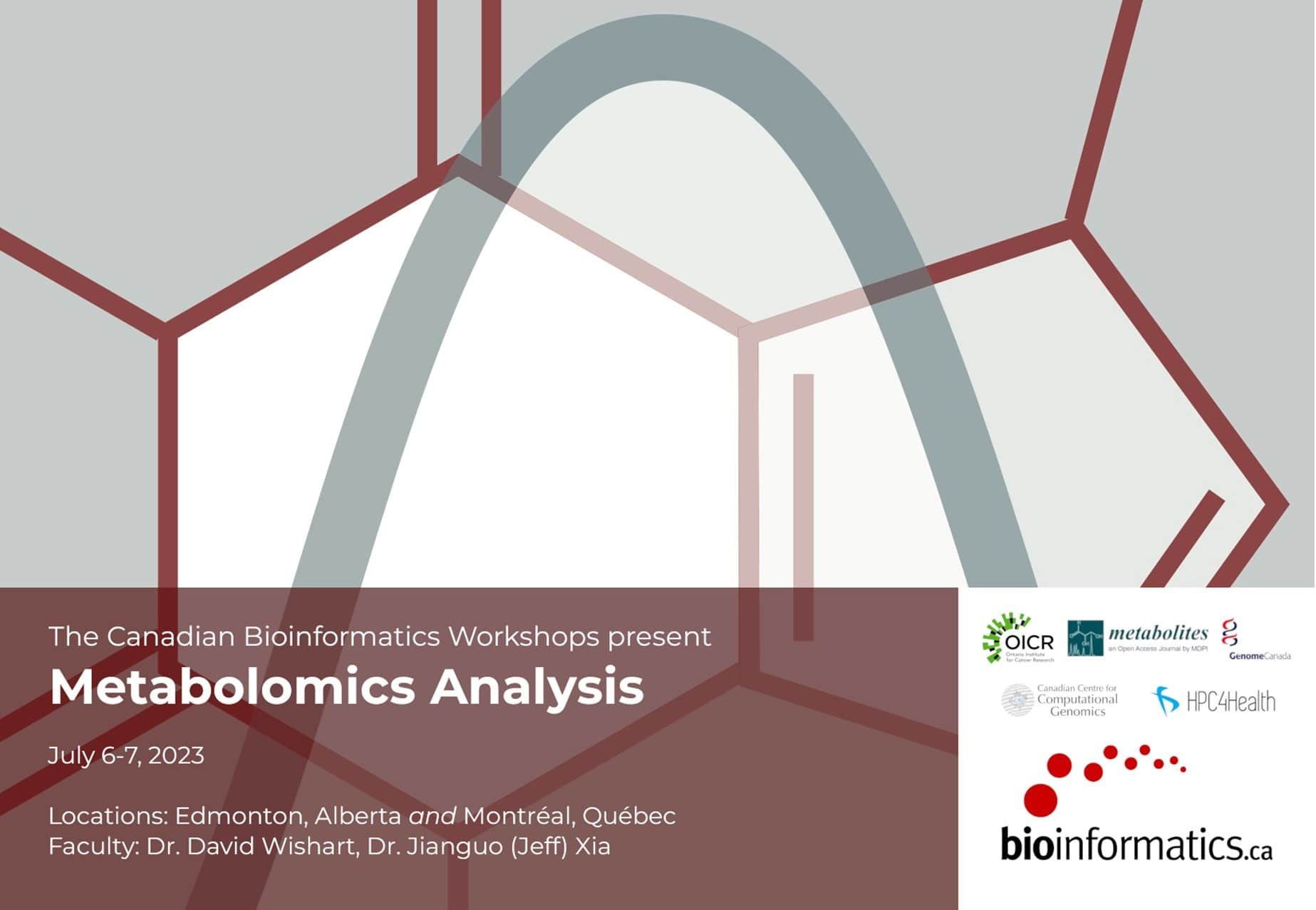 6–7 July 2023
(2023) Metabolomics Analysis
Edmonton, AB, Canada and Montreal, QC, Canada
The Canadian Bioinformatics Workshops are pleased to announce that our popular Metabolomics Analysis workshop will be held in both Edmonton and Montréal on July 6–7, 2023!
Metabolomics Analysis will provide researchers with the skills to characterize small molecules and metabolites using high-throughput tech. This workshop covers topics including important metabolomics technologies, data collection and analysis, using pathway databases, performing pathway analysis, conducting univariate and multivariate statistics, working with metabolomic databases, and exploring chemical databases. Hands-on practical tutorials using various data sets and tools will assist participants in learning metabolomics analysis techniques.
Registration is CAD 475 for applications received by May 15th and CAD 675 for applications received by June 22nd. Participants have their choice of attending in either Montréal or Edmonton; TAs and a professor will be available at each site. Day 1 lectures will be held live in Edmonton and broadcasted to Montréal, while day 2 will have live lectures in Montréal broadcasted to Edmonton. Lab modules will be performed on-location.
Learn more and apply here:
https://bioinformatics.ca/workshops-all/2023-metabolomics-analysis/